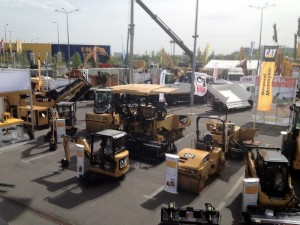 First edition of UTICAM closed on Sunday with positive results. On a surface of 24.000 m² the event reunited for 5 days 40 exhibitors, who displayed a complete range of construction machinery.
As with Wednesday, April 25th until Sunday April 29th more than 3000 visitors came to the Băneasa Commercial Area to admire the highest achieving construction machinery and trucks. Worldwide famous brands such as Volvo, Caterpillar, Komatsu, Hamm, Wirtgen, JCB, Terex, Mustang, Dobrowolski and many more were exhibiting. Renault Trucks, Iveco, Scania, Mercedes and MAN exhibited trucks.
More than 500 construction machines, summing up to over 30 million Euros were on display at UTICAM. 80% of the machinery in the exhibition was 2012 models, shown for the very first time in a specialized exhibition.
"The Association of Construction Machinery Distributors (A.D.U.C.) has declared their satisfaction for the outcome of UTICAM. It is for the first time when the A.D.U.C. members participate in an exhibition dedicated to construction machinery and trucks and UTICAM overdid our expectations. The high number of visitors directly interested in machinery, the compact display area enabling an easy access to all exhibitors, the position of the fair and the way it was organized convinced us. We are certain that post UTICAM we will close valuable agreements, of which we do not know had we been able to contract if not participating at UTICAM. All A.D.U.C. members declared they were looking forward to the 2013 edition." said Mr. Petre Băbiceanu, president of A.D.U.C.
"UTICAM appeared from the need on the marked for an event dedicated exclusively to construction machinery and trucks. In 2011 the machinery sales grew 70% and massive growth is expected also for 2012. This is the fact that determined us to organize a trade fair bringing together the most important distributors in Romania. As organizers, we are thrilled by the way UTICAM worked out. The exhibitors satisfaction is ours too and there will be a second edition to follow in 2013, a fact that was specifically required by all exhibitors present at the fair. We are certain that as opposed to the 24.000 m² covered this year, for next year we will expand with at least 8000 m².", declared Bogdan Craiciu, the president of UTICAM.
The event was organized by Set Events and A.D.U.C., with support of Băneasa Shopping City, Bricostore and Hotel Caro.
Media partners: București FM, România Liberă and Casa Mea, Wall Street, The Marketer, Unelte și Echipamente, Agenda Construcțiilor, Constructiv, Bursa Constructiilor, Mașini și Utilaje, Truck&Van, 100Construct, Ziua Cargo, Infoconstruct, Transport Business, Info Construcții, Trafic Media,Transporter, Efin, My Bucharest Guide, Cargo&Bus, Proidea, Calendar Evenimente.

Source: UTICAM News Room – Translation: Ioana Giurgiuman