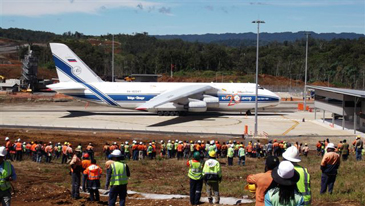 As part of the Papua New Guinea liquefied natural gas (PNG LNG) project located in the southern highlands region, the Komo airfield is now complete — and has welcomed the first landing of an Antonov AH-124-100 aircraft.
Komo is an extremely remote and resource-rich area in the highlands of Papua New Guinea (PNG). The mountainous green region is known for its changeable weather conditions and heavy and prolonged rainfall.
Over nine trillion cubic feet of gas and 200 million barrels of associated liquids are expected to be produced over the project's lifetime with more than 700 km (450 miles) of pipeline connecting the facilities. Operated by Esso Highlands Limited, a subsidiary of Exxon Mobil Corporation, the gas will be sourced from the Hides, Angore and Juha gas fields as well as associated regions – Kutubu, Agogo, Moran and Gobe.
The construction of the airfield now provides a gateway for large equipment to be transported to the Hides gas conditioning plant that will treat the natural gas and condensate. The Russian-made Antonov-124 cargo aircraft that made the airfield's maiden flight will now be used to deliver the large equipment required for the operation of the plant. About 70 trips in total will be required to transport the equipment.
The PNG LNG consortium consists of seven different companies including ExxonMobil, Oil Search, state-owned National Petroleum Company of PNG, Santos, JX Nippon, landowner interest manager Mineral Resources Development Company and state-owned Petromin. Once the project is complete, it will generate substantial capital inflows to the country, as well as producing new jobs and improving living conditions in the area.
Mega challenges
ExxonMobil contracted McConnell Dowell and Consolidated Contractors Co. (MCJV) to build the Komo Airfield. The work involved construction of a 3.2 km long by 45 m wide runway, as well as all airport infrastructure, including a terminal building, runway lighting, communication facilities and fuel storage. More than nine million cubic meters of earth was moved and 55,000 tons of asphalt was laid on the runway's surface.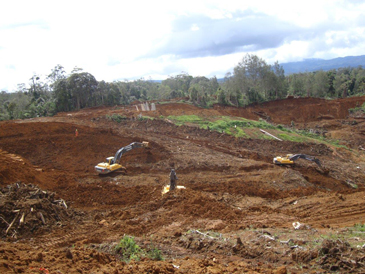 Along with other machinery on site, MCJV used 71 Volvo Construction Equipment (Volvo CE) machines to complete the project, including 21 A40E articulated haulers, 27 EC460CL excavators, eight G990 B-Series graders, six L180F/L150F wheel loaders, two Volvo 7820B pavers, two PT240R rollers, five different models of Volvo soil compactors including the SD100 B-Series and SD160 machines, (15 altogether), two BL61 B-Series backhoe loaders and two A35E articulated haulers modified to hold 40,000 liters of water.
In the face of adversity
"We faced massive obstacles getting the machines to the site," says Andreas Talianos, area plant manager of the project in PNG. "We experienced bad road conditions and mud slides– but the most challenging aspect was contending with an estimated 50 million liters of rain.
Volvo machines did an excellent job due to their durability and good engineering – and the aftersales support we received even in this most remote of spots was excellent."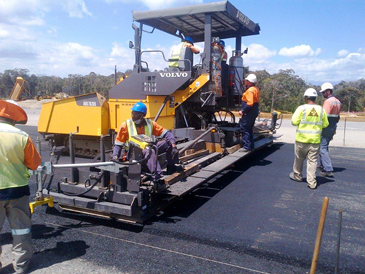 "At peak times we employed more than 2,300 people," adds Chakib Nayfe, project director until the third quarter of 2011. "We worked seven days a week, a minimum of 10 hours a day, and our maintenance and repairs department also worked every day, as well as occasional night shifts.
More than 85% of the task force was made up of local employees, and 34 different nationalities and cultures worked together on the job site." About 80% of the machines that arrived on site were brand new and each machine clocked up 6,000 to 7,000 hours on average. Having been scrupulously well maintained all of the machines were still in good operational condition after the completion of the airfield and were ready to be transferred to other job sites. Many of the articulated haulers have since been bought by ExxonMobil for other areas of the PNG LNG project.
Source: Volvo CE