Volvo Construction Equipment has been awarded the 'Presidential Prize' in the 2011 National Productivity Awards, run by the Korean Government.



The National Productivity Awards are one of the most prestigious award ceremonies in Korea. Run by the Korean Government and executed by the Korean Productivity Center, the awards recognize companies and organizations that have achieved exemplary productivity.
This year, Volvo Construction Equipment Korea was awarded the 'Presidential Prize', the highest accolade in the ceremony. Volvo was praised for its efficient global production methods, innovative technology and skilled employees, which all worked together to raise productivity levels at the Volvo plant in Changwon, Korea.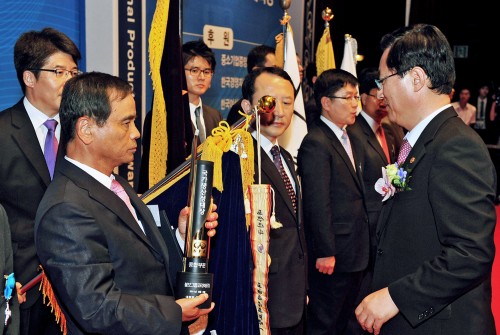 Volvo Construction Equipment was established in Korea in 1998, when it took over the construction equipment arm of Samsung Heavy Industry. Since then, Volvo has increased its exports from 20% to 80%. This contributed not only to company growth, but it helped to increase overall trade in the country. Volvo also received credit for contribution to the Korean economy by employing up to 18,000 employees, including 180 subcontractors.
Volvo Construction Equipment was also celebrated for enhancing its research and development center at the Changwon plant to include the VPD (Virtual Product Development) center, a first for Korea established in 2006.
Mr. Wi-Soo Suk, President of Operations Asia, Volvo Construction Equipment, received the award for the company at a ceremony on Sept 6, and said: "We are honored to have won this prestigious award. It is a credit to our hard working team and efficient production systems.  We are constantly working to improve our processes and in this way we will continue to contribute to the country as a global corporate citizen."

Source: Volvo News Room