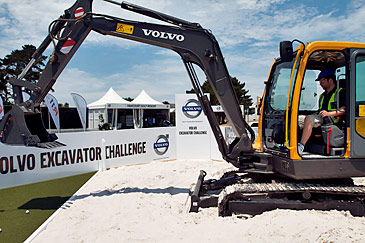 South Africa plays host to the inaugural Volvo Golf Champions tournament this weekend. And the fun isn't reserved just for the professionals; spectators can try their hand at chipping out of a bunker using the world's largest sand wedge – an EC55 excavator.
The Volvo Golf Champions event tees off this weekend in Cape Town – pitting the game's best-of-the-best against one another in a fascinating contest.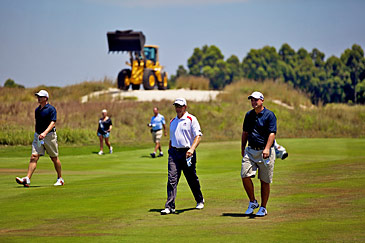 Only winners need apply
Over the next three days a field of the world's top 35 golfers will shoot (and putt) it out over the manicured greens of the Links course – including such greats as Colin Montgomerie, Darren Clarke, Ernie Els, Pádraig Harrington, Retief Goosen, Robert Karlsson and Miguel Angel Jimenez. To qualify, participants have had to either win an event on last year's European Tour or be a 10-time champion. On offer to the victor is not just the satisfaction of being a 'champion of champions', there is also the small matter of €350,000 in prize money up for grabs.
Volvo Construction Equipment (Volvo CE) has been a long-standing supporter of Volvo Golf events, and this year marks Volvo's 125th tournament in men's professional golf and its 75th event on the European Tour. These exciting competitions are a great way of raising the profile of the Volvo brand and spending time with key stakeholders. As Klas Magnusson, Senior Vice President of Corporate Communications for Volvo CE says: "These popular golf events are a valuable way to bring Volvo CE together with its dealers and customers, many of whom are avid golf fans."
The perfect club when in a bunker – a 55 iron
To celebrate its involvement in the game, Volvo CE is offering something unique to spectators by way of an 'Excavator Challenge'. Located in a sandpit close to the course, spectators are invited to use a Volvo EC55B excavator – with golf club attached to the excavator arm – to play their own game of golf by trying to maneuver the ball into the hole.
Volvo CE is hoping for some spectacular hole-in-ones – both on the course and in the Volvo Excavator Challenge.
Source: Volvo News Room