When tornadoes caused devastation to the lives of Volvo Trucks employees and their families, Volvo Construction Equipment came to the rescue armed with a Volvo EC210C excavator.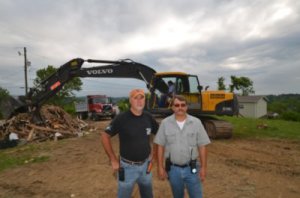 In times of trouble, communities and families pull together. And that's exactly what happened in the Volvo Group family when tornadoes ripped through Pulaski County in the US – destroying the homes of some of the 2,200 employees from the Volvo Trucks New River Valley Plant. When Volvo Construction Equipment learnt of the disaster it quickly mobilized a Volvo EC210C crawler excavator to join the relief effort and work alongside a Volvo VHD Truck. The machines worked together to clear the trail of destruction the tornadoes had left behind.
Devastation hits
Despite being protected by the Blue Ridge Mountains and the foothills of the Appalachian Mountains, Pulaski County, in Virginia, was hit hard by this year's spring season storms. A tornado with wind speeds of over 110mph ripped through the hills and valley of a residential area, demolishing everything in its path. Less than two miles away, a separate vortex of wind and debris obliterated more of the landscape.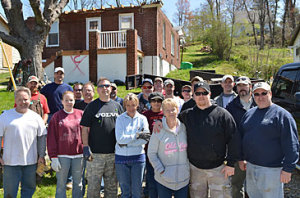 Volvo volunteers
Volvo Trucks employees Bill Burton and Ray Whitt, who both serve on the plant's emergency response, health, safety and Emergency Medical Technician (EMT) teams, and volunteer with the local fire and rescue squads, joined other first responders searching for survivors. During the storm, darkness and torrential rain masked the full extent of the devastation. But come daybreak it was quickly realized that areas had been reduced to ruins and heavy-duty equipment would be needed to clear the wreckage.
Ready for action
Volvo Construction Equipment and Volvo Trucks joined forces to help the local communities in their time of need. Volvo Construction Equipment arranged for its local dealer McClung-Logan, in Roanoke, Virginia, to deliver the excavator to Pulaski County, and Volvo Trucks provided a Volvo VHD Truck. "We heard about the extent of the damage the community was faced with and wanted to offer our support," explains Ian Harvey, product marketing manager at Volvo Construction Equipment. "We knew that a Volvo EC210C excavator would be an enormous help when it came to clearing the debris from the most affected areas – these machines are perfectly suited to this kind of site clean-up work."
Community spirit
The management team from the New River Valley Plant asked Bill and Ray to help lead Pulaski County tornado relief efforts. Both men took charge of one of the five zones the county was divided into. They spent more than a month assisting Pulaski County relief workers. Other employees from the plant led volunteer groups which helped clean-up the aftermath of the storm.
"Our employees extended a helping hand to their neighbours," explains Patrick Collignon, chief operating officer of Volvo Trucks and the plant's vice president and general manager. "It was great that we could team up with Volvo Construction Equipment to help the local community and very rewarding to see everyone coming together."
Source: Volvo New Room