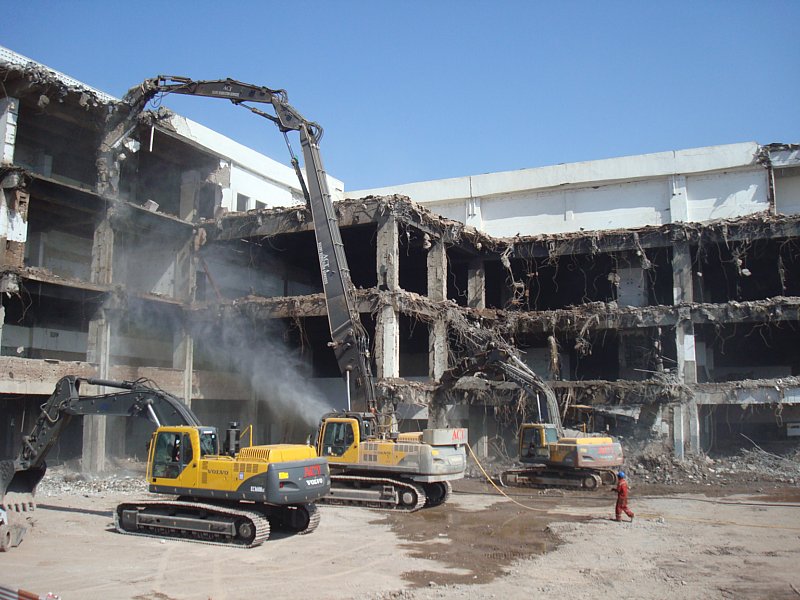 Advanced Construction Technologies (ACT) is improving safety and transforming the demolition industry in India, with the support of Volvo Construction Equipment machines.
Armed with a fleet of seven Volvo excavators, India's Mohan Ramanathan is often referred to as 'The Demolition Man' – a title he has gained after decades in the industry and through his role as managing director of ACT, one of Volvo Construction Equipment's 13 dealers in India. Mohan has taken on a mighty challenge. Through ACT, which is considered a pioneer in the Indian demolition industry, he is trying to introduce safer, more efficient ways of working. "The demolition industry in India is around 15-years behind the western world," explains Mohan, who is a qualified civil engineer and has a Masters in Construction Equipment. "I am trying to convert people to modern ways of working and raise awareness of safer, more efficient and cost effective methods compared to traditional, labour intensive processes."
Pioneering new technology
ACT has been the gateway for many demolition technologies to enter India. In 2006 Mohan introduced silent demolition technology to the country by using a hydraulic concrete crusher mounted on a Volvo excavator. This was the first time a crusher was used with an excavator in India's demolition industry. In 2008 he brought over the first Volvo Ultra High Reach Excavator – marking the introduction of this technology in Asia. "Slowly we are starting to move away from manual demolition towards a much safer and more efficient mechanical way of working," believes Mohan.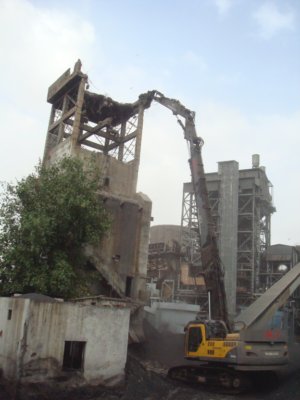 "However, using excavators and attachments in Indian demolition is still a relatively new concept because there is not enough awareness of the technology available," says Mohan. "With the combination of the redevelopment of walled cities, old infrastructure waiting to be replaced and plans for enhancing the use of land, there is great potential in this market – and so it is vital that we are up to date with the latest demolition techniques. That's where Volvo Construction Equipment comes in. The machines are really starting to transform the demolition industry now, but there are still challenges to overcome."
Team demolition
ACT, which started as a family business 60-years ago, sells and rents Volvo machines in Tamilnadu and Kerala, two southern states in India. Mohan's fleet of machines – which consist of Volvo EC140, EC210, EC240, EC360 and EC460 excavators with both a 22m and 26m boom – are used with demolition attachments such as hydraulic breakers, crushers and shears. The machines work on demolition jobsites across India and are currently being used on a major project in Ahmedabad, west India, where a large power station is being demolished. The fleet is also hard at work dismantling structures in Chennai, south India, to make space for an underground Metro Rail project.
Strict criteria
Before Mohan introduces new technology to the Indian demolition industry he makes sure it fulfils certain requirements. His philosophy states that it must be the most economical and effective technology available in the field. Secondly it must be the safest and the fastest. And finally it should be the most modern method which can easily be adapted to Indian conditions. "These requirements are what led me to Volvo Construction Equipment machines," says Mohan. "Volvo has the best hydraulics and that is extremely important because we are always using hydraulic attachments. The machines are built with increased safety and stability. They are tough, reliable, fuel efficient and environmentally friendly. Volvo excavators are so much more efficient, saving valuable fuel and therefore money."
What the future holds
"Demolition is a very exciting and challenging area," says Mohan. "The cause of most accidents in this industry is the use of inappropriate methods and a poor understanding of the structure. But things are starting to change. It is essential that we modernize to increase safety, efficiency and environmental care – with the help of Volvo Construction Equipment we are moving towards a better and safer way of working in India."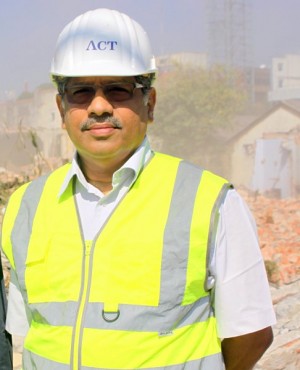 The Volvo 'demolition man' in India, Mohan Ramanathan, managing
director of Advanced Construction Technologies (ACT).
Source: Volvo News Room