Sweden's coolest holiday venue – the Icehotel – is now open 365 days a year thanks to a fleet of Volvo wheel loaders working in sub-zero temperatures.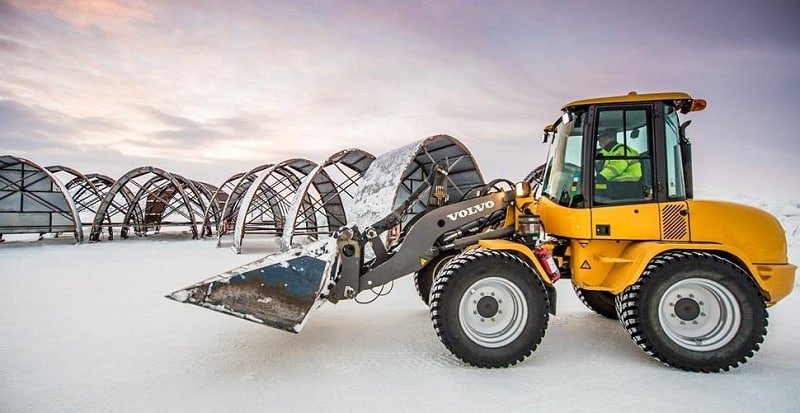 Typically, when the mercury drops, holidaymakers often fly to sun-kissed shorelines and sandy beaches, but for those who crave a colder climate, the Icehotel is the ideal destination.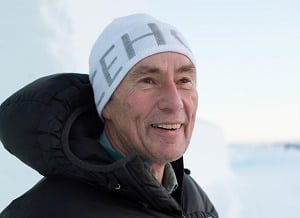 Volvo-transforms-winter-slumberland-into-year-round-Icehotel-02-1920×1400
Located 200 kilometers (124 mi) within Sweden's Arctic Circle, the Icehotel has warmed the hearts of locals and tourists alike – attracting up to 50,000 people every year to watch the Northern Lights.
The modern mega igloo is the brainchild of founder Yngve Bergkvist. "When I first moved here, people told me that the winters are dark and cold," he recalls. "Even the tourist manager was convinced that nobody in their right mind would come to visit Jukkasjärvi during winter. I wanted to change that image and started to think about how we could use our cold environment in a productive and exciting way."
Since its establishment in 1989, this unique tourist attraction has only been built and in operation for about four months – between mid-December and mid-April – every year. But in December 2016, the same location unveiled the Icehotel 365, the world's first permanent ice hotel. Now, the most hardcore of cold lovers can enjoy the experience year-round in the 2,100 square meter (22,600 ft2) getaway, featuring 20 rooms, art galleries and of course, a 200 square meter (2,150 ft2) ice bar. The groundbreaking concept is also environmentally sustainable.
BREAKING THE ICE
The natural ice is cultivated and harvested from the Torne River, which flows past the hotel complex. Come spring, most of the Icehotel and all the artwork melts, returning to the river. "I have a background in environmental science and have always believed that you should utilize and recycle every part of what you build," Bergkvist says.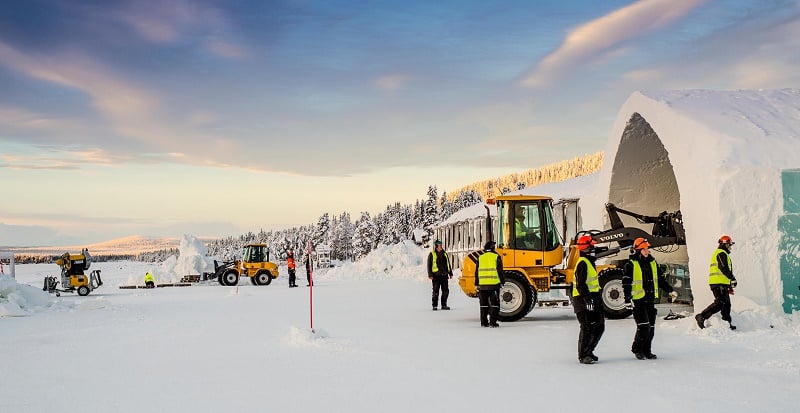 Volvo-transforms-winter-slumberland-into-year-round-Icehotel-03-2324x1200Indeed, sustainability is central to all aspects of the hotel. Storm water is used to reduce the mains supply and wastewater from the ice-storage cooling system is reused. All laundry is handled on site, saving on transport, and the facility repurposes the excess steam from washers and dryers.
The hotel complex strives to be carbon neutral and uses electricity from renewable sources. Solar panels generate more than enough electricity to keep the year-round hotel chilled during the warmer months. Using the near constant daylight of the midnight sun within the Arctic Circle between May and September is a sustainable way of having the hotel open all year round. As a result, the sun will ensure that the guests at the Icehotel get a cold night's sleep and a warm welcome in the morning.

FROZEN ASSETS
The unique construction conditions have presented challenges for both man and machine. Alf Kero, site manager, has been working at the venue for over 10 years says: "The biggest challenge with planning and constructing the [seasonal] Icehotel is definitely the weather," which can drop to a bone-chilling minus 40 degrees centigrade. "For this purpose, we only use Volvo machines, as they are robust, fuel-efficient and are regarded as the most reliable," he adds.
A fleet of Volvo wheel loaders – including the L60E, L35B, L30B and a 1992 vintage L50 – are used to harvest ice, move snow and ice blocks used for building, as well as clear snow.
The process of cultivating and harvesting natural ice has been fine-tuned over the years. "Starting in January, we clear snow from the marked areas on the river. We then use the machines when we harvest from the middle of March and put the ice in storage for the next season," explains Kero. This minimizes wastage and emissions, as the ice does not have to be transported from source to storage and any that is not used is returned to the river.
NEW ICE AGE
The growing popularity of the hotel has not gone unnoticed by the local community. "They have witnessed people coming from all over the world to experience 'their' winter," Bergkvist says and gives the example of a visit by supermodel Naomi Campbell. "I think all of these things have helped to gradually change the old image of a cold and dark place to something more positive," adds Bergkvist.
There is something special for youngsters, too. "We are building a playground made entirely of ice and snow, complete with slides, labyrinths and all sorts of fun things," explains project leader Mats Persson, who also works as a machine operator. "It is being created with excess material from the River Torne and the Icehotel construction. It takes great precision to place and fit the pieces together."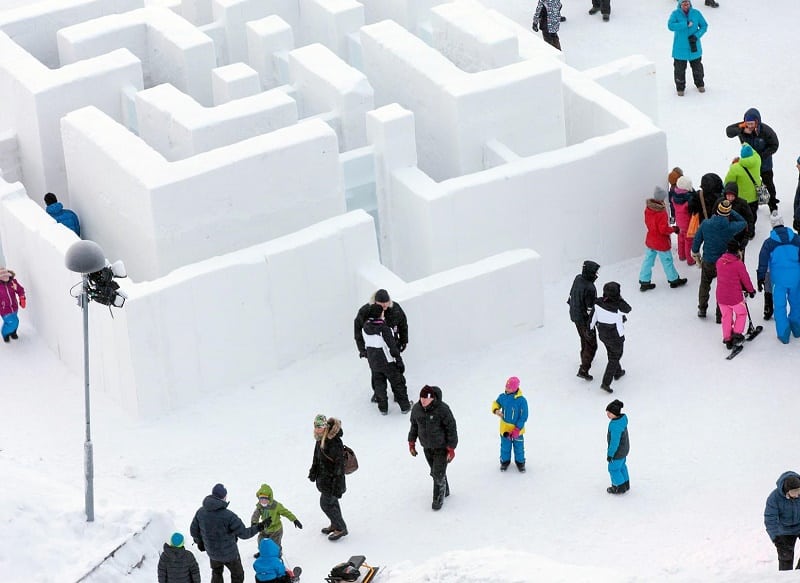 The playground is a collaborative project between the Icehotel, Kiruna municipality, local government agency Tekniska Verken and designers at PinPin Studio. Students at the local school Hjalmar Lundbohmsskolan are also an important part of the process.
"Three years ago, the students made a very much appreciated 'miniature version' of the playground as a school project," says Petra Wadlund Lindh of the Icehotel. "This project is a continuation of that goal which was to make something that could be appreciated by children as well as adults. We simply want to make something fun and beautiful."