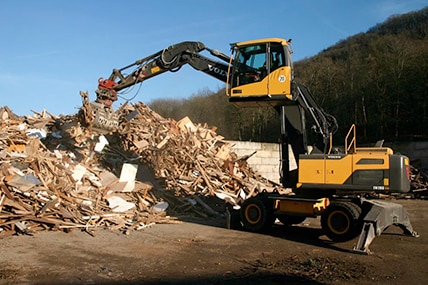 A fleet of Volvo wheel loaders and excavators are helping Zimmermann Recycling & Transport sort and recycle 200,000 tonnes of waste every year.
Germany has been at the forefront of the recycling movement and still leads the way when it comes to collecting, sorting and finding new revenue generating uses for waste materials – reducing the need for landfill in the process. Based in Lahnstein, a city at the tributary of the Lahn and Rhine Rivers just south of Koblenz, is Zimmermann Recycling & Transport – one of Germany's leading waste handlers. Founded in 1995, Zimmerman is an environmentally responsible company, encouraging society to 'recycle instead of dump'.
Leading by example, it prepares different types of waste for recycling at its 70,000 square meter site.
Since 2000, Zimmermann has exclusively used a fleet of Volvo Construction Equipment (Volvo CE) for all waste material handling operations. The machines sort and move 200,000 tonnes of waste every year.
About 60 employees work on the site, processing different types of waste that can be reused again in the community. The company also operates its own container service to collect the waste, with 20 special vehicles and 11,000 various sized containers.
On top of the work load
Currently 12 Volvo machines work at the facility, including several wheel loaders from an L30 to L110 G-Series and a EW160B-Series and new EW210D-Series wheeled excavator – both with elevating cabs.
The elevating cab gives the operator a full view of the recyclable material in order for it to be sorted quickly and efficiently. The machines work three shifts a day and the handling equipment clocks about 2,000 hours a year. To maintain productivity, Zimmermann changes its machines after 8,000 hours of operation.
"Qualified personnel, logistics and the latest machine and plant technology are key factors in recycling," says Ralf Zimmermann, who runs the company with his brother Frank. "We mostly rely on industrial waste coming in from the demolition and wood industries but we also recycle green waste, plastics, scrap metal, waste paper and glass."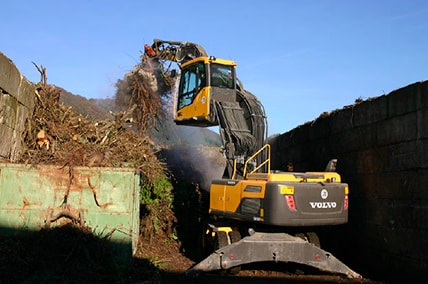 Site conditions can get extremely dusty but machine operators are protected in the dust free in the comfortable Volvo cabs. In addition, a cyclone pre-filter protects the engine from dust ingress and solid rubber tires and a central lubrication system also defend the machines against the rigors of the site.
Talking the talk
"The product speaks for itself but the maintenance and after sales service is also important," says Zimmerman. "Our local Volvo dealer, Jungbluth Baumaschinen GmbH, 30 km from Lahnstein, employs 80 people and each is focused on ensuring excellent customer service."
The EW210D cabin can reach a height of 5.6 meters, assisting the operator when sorting piled high waste and when feeding the shredders and crushers. The high cab also allows a clear view when loading into high-sided truck bodies. The quick coupler S6 sorting grab and bucket can be easily changed on the machines to suit different tasks.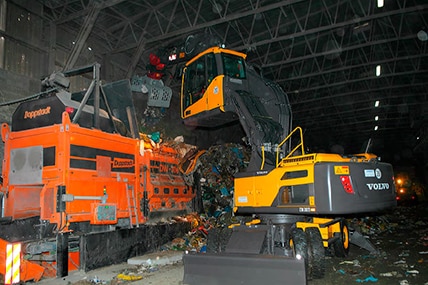 "The cabins almost feel like you're sat in your favorite chair," says Zimmerman. "It's very important that our operators feel comfortable carrying out their daily work and the adjustable seat, low noise, efficient ventilation through the standard air conditioning and ergonomic layout of the controls provide this. The high torque at low revs is also important because with adequate attachments they can drive almost at idle into the bulk waste or reach into the material. This protects the machines, lowers noise emissions, energy consumption and dramatically shortens load times."
The waste is treated and crushed on site with modern sorting tools. Zimmermann Recycling follows clear economic guidelines and quality requirements so that it remains environmentally responsible.
Source: Volvo CE