Worsley Plant, supplier of materials processing equipment to the construction, demolition, waste management, landscaping and recycling industries, is officially launching two new innovations from MB to the UK market at PLANTWORX 2015 this June. In addition it will also be showing the Award Winning Lehnhoff Variolock Quickcoupler in action.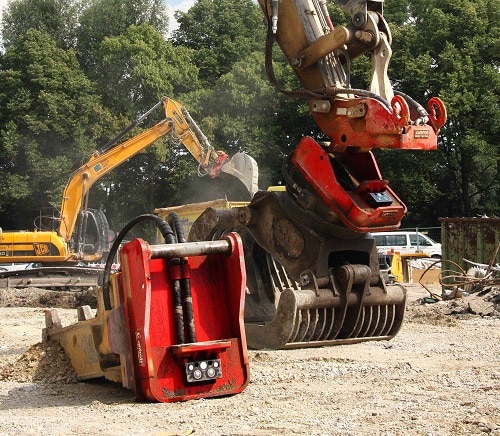 MB, the undisputed global leader in the production of earth movement and demolition equipment, has developed two new Cushing Buckets that compliment the existing range of MB products: the new model MB-BF80.3 and the MB-BF135.8 Crushing Buckets.
Suitable for excavators that exceed 18.5 tons of weight, the BF80.3 is compact, versatile and suitable for crushing and recycling inert materials resulting from demolition (road works – excavations – pipes – pipelines). In spite of its size and lower weight compared to larger models, it reaches productivity of 34 m3 per hour.
Suitable for excavators weighing over 43 tons, the BF135.8 has been created to meet the specific needs of crushing in quarries, for recycling aggregates at landfill sites, and for the volume reduction of materials resulting from demolition on site, or excavation, sewage systems and preparation of aggregates. With a productivity of 75 m3 / h, a capacity of about 1.60 m3 and a total weight of 7.50 tons the crusher bucket BF 135.8 is versatile and handy.
The MB BF135.8 and BF80.3 crushing buckets are innovations in their fields in terms of the technology used and their ability to allow the owner to recycle his materials on site, saving time, money, manpower and the environment.
Worsley Plant were recently proud winners of a PLANTWORX Innovation Award, having entered the Lehnhoff Variolock Quickcoupler System into this year's Engineering Innovation category and were delighted to be amongst the winners.
The broadest category in this year's awards, the Engineering Innovation category was also the most eagerly contested, attracting a record number of entries. The Lehnhoff system really impressed the judges and received Highly Commended in the category.
Sean Heron, Worsley Plant's Managing Director, who collected the award said:
"We are delighted to have won this prestigious award, judged and presented by industry professionals. It is a well-deserved win for Lehnhoff Variolock Quickcoupler System, which is unrivalled in its ability to allow quick tool changes within 15 seconds. Variolock turns your hydraulic excavator into an all-round specialist allowing easy and frequent changes of tools. Each attachment is ready for safe use in a matter of seconds. Changing any attachment is effortless, safe and fast."
Come along to see these and Worsley's other leading industry products, including screening buckets from REMU and demolition attachments from ROTAR on Stand SCZ2 and also at work in the Site Clearance & Demolition Zone.
To find out more, visit www.worsleyplant.co.uk or call us on 01606 835544.