Arabian Construction Week 2011 to Host over 500 World Class Exhibitors in Abu Dhabi – The Region's New Construction Exhibition Capital2011 to Host over 500 World Class Exhibitors in Abu Dhabi – The Region's New Construction Exhibition Capital
International Construction Exhibition and Global Summits to Showcase Latest Innovative and Sustainable Solutions
Dubai-UAE: 02 November, 2010 – Delegates to the Arabian Construction Week in 2011 will be treated to a world class exhibition attended by over 500 exhibitors. In 2010, the show attracted 7,000 visitors and next year the organizers, Clarion Events Middle East, are preparing for an even bigger turnout.
The Arabian Construction Week will take place between the 28-30 March, 2011 at the Abu Dhabi National Exhibition Centre (ADNEC) and will cover over 20,000 sq metres of exhibition space. It is expected that over 10,000 industry leaders, contractors, developers, urban and planners, architects, consultants, government organizations and financiers will attend.
Christopher Hudson, Managing Director of Clarion Events Middle East said: "Abu Dhabi is fast becoming a hub for regional and international conferences. The quality of the facilities and the rapid growth of the Emirate are attracting attention from around the world. This is why the Arabian Construction Week is gaining the support of so many of the industry's leading players and we are delighted that such an erstwhile and prominent contingent of world class organizations will be with us in 2011. We look forward to welcoming and delighting all delegates to the show."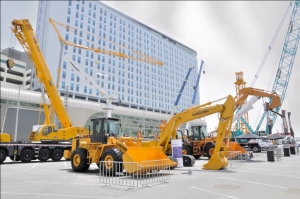 The Arabian Construction Week consists of three dedicated trade shows – Green Building Middle East for sustainable construction solutions, Future Build Middle East for Innovative construction products and Civil Engineering Middle East highlighting major infrastructure developments.
Jamal Lootah, President, Middle East Facility Management Association (MEFMA), said: "We are delighted to take part in Arabian Construction Week.  We see the event as one of the most important exhibitions for the Abu Dhabi and Middle East region, supporting both the construction and facilities management industries. MEFMA's plans throughout the region are to unify and standardize facilities management whilst providing a platform for education, training and networking. By taking part in Arabian Construction Week we aim to demonstrate our plans, both present and future and invite all stakeholders to visit our stand during the three day event."
An integrated structural design is central to cost effective and sustainable development. In addition to the trade shows, Corporate Publishing International, strategic partner of Arabian Construction Week, will host four summits – Building Smart, Infrastructure, Climate Control, and Green Building. These summits have been designed to give delegates an opportunity to understand construction processes, define suitable technologies for projects, and examine how successful builds are completed.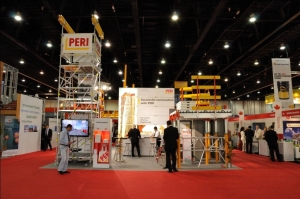 Central to the event is the Building Smart Summit which will define how efficient designs create sustainable, cost effective builds required in today's economic climate. Alongside this, the Infrastructure Summit will witness prominent figures exploring key issues facing the construction industry in the region with a focus on the construction of ports, railways, roads and schools.
Jonathan Lewis, Vice President Sales and Marketing, Hemyan Steel Net Manufacturing, Jamal Al Serkal Group, said: "Participating in the first Arabian Construction Week surpassed our expectations and we successfully showcased our ConCrewall Building System and met many construction industry leaders from all over the globe. Our goal in 2011 is for us to build on the success and exposure we had at the exhibition in 2010."
The Climate Control Summit in association with ASHRAE, will highlight the design, cost and implementation of district cooling systems for mega projects across the GCC, while the Green Building Summit will present case studies and green technologies which reduce costs and improve sustainable credentials of projects.
Hussein Mohammed Al Mahmoud, President, UAE Business Council for Sustainable Development (UAE-BSCD) and Director General, Sharjah Chamber of Commerce and Industry, said: "Facing the global climate change and population growth, businesses must have constructive partnerships with government and civil societies as investment in technological changes are beyond the capacity of a single company or country.UAE-BCSD's main objectives are to provide best leadership practices, adapt changes that result in sustainable innovation, development and growth and raise the awareness among the private and public sector in the UAE."
Supporting Associations of the Arabian Construction Week include The UAE Business Council for Sustainable Development, Qatar Green Building Council, RICS, Contractors Association, Middle East Facility Management Association (MEFMA), Society of Façade Engineering, Middle East Drymix Mortar Association (MEDMA), CIDB Malaysia, buildingSMART ME, Society of Engineers – UAE and the emirates Green Building Council.
Source: Arabian Construction Week News Room