More than a million tonnes of coal is cleared in just 24 hours at India's largest port facility – Krishnapatnam Port Company Ltd (KPCL) in Muthukur.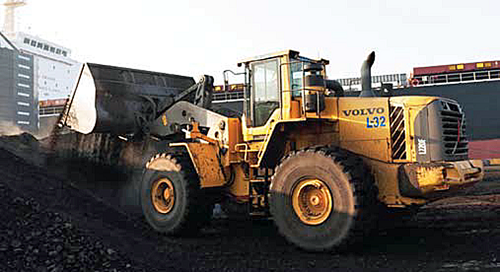 Volvo Construction Equipment (Volvo CE) machines are working furiously at the Krishnapatnam port, moving more than a million tonnes of coal in 24 hours. Situated in the Nellore District of Andhra Pradesh in the east of India, the history books state that the port was named after Sri Krishnadevaraya – Emperor of the Vijayanagar Empire – who first operated the port and is still revered in India. Small boats used to pass through the Buckingham Canal, which runs behind the port and was a waterway for transportation between Chennai in the south and the Krishna River in the north.
The port is now one of India's largest and fastest growing modern seaports, emerging as a world-class facility and proving popular for international cargo destined for southern and central India. The country's growing maritime trade in the world market, with growth in bulk commodities and containerized trade, is taking advantage of the deep water port and its high productivity. It has the capacity to sustain the forecast demands of growing international trade and is planning to grow its capacity by building seven additional berths.
For the last five years, KPLC has been breaking records, winning accolades and setting benchmarks to become India's largest cargo gateway on the east coast. For speed and efficiency, the company uses a fleet of Volvo construction equipment.
Driving forwards
"So far, we have registered growth of 40% between 2012 and 2013 – even as other ports in the country struggle to improve their cargo profile," says Anil Yendluri, chief executive officer of KPLC. "High productivity and low downtime is the key to our success and Volvo CE has played an important role in ensuring this."
KPCL has been working closely with Volvo CE since 2005 – before the port was built in 2006. In fact, the fleet of Volvo machines is the backbone of logistics across the facility, operating inside the KPLC complex transporting and moving materials across the site. "I really appreciate the customer-centric approach Volvo CE always takes," says Yendluri. "It understands customer needs better than anyone, going out of its way to deliver solutions in line with our needs."
The fleet includes 29 excavators and 36 wheel loaders as well as motor graders and compactors in a range of models and sizes. These are backed by an exclusive fully-fledged service support centre on the port's premises to ensure comprehensive maintenance of the fleet at all times.
However, it's the Volvo wheel loaders – especially the L220Fs – that play a pivotal role in the company's supply chain. The loaders get things moving thick and fast. "In supply chain management, you don't get away by simply providing world-class equipment. You back it up with world-class service like Volvo does," says Yendluri. "Volvo equipment is robust and strong enough to work well in these tough conditions and is very operator-friendly."
A sea of operations
In 2011, KPLC won the Best Port Operator Award at the global Lloyd's List Awards and has ambitious plans for the future, already establishing a Phase II development plan that is currently underway. The development involves the construction of a pipeline infrastructure and seven additional berths with four of them dedicated to coal. Liquid and roll on/roll off terminals are also already in place.
A host of major power plants, port-based industries and projects are planned in the port's vicinity. This will create not just a coal rush but an increasing demand for an entire range of raw materials. In the next five years, KPCL will be one of the most sophisticated ports in the country with a handling capacity of 200 million tonnes. "The way I see it," adds Mr. Yendluri. "Things can only get better, not just for the Krishnapatnam Port. The KPCL and Volvo CE partnership is the new face of Indian infrastructure."
Source: Volvo CE