International Construction and Building Industry, Heating-Ventilating-Air Conditioning, Window-Door, Flooring-Aluminum-Glass and Decoration Exhibition is going to be held between 18th-21st November 2015 at SAFEX Expo Center which is the most important trade center in Algeria.
Organized by Elan Expo
Best5 Algeria is organized by ElanExpo. It provides many business opportunities to related sector companies. It has a great market potential in Algerian market, and also it has became the most powerful and communication platform for all construction, hvac sector. It brings together North Africa's and global buyers and suppliers to Algeria's one of the biggest exhibition to get latest market opportunities in Algeria. Best5 Algeria will be the first step for entering to Algerian Market to exhibit lots of products and services for construction, and hvac industry.
Over 60 Exclusive Companies from Around the World
This important event brings together leading companies in the sector from Europe and all around the world. Algeria, Turkey, Portugal, China, South Africa, Greece, India, Iran, and United Arab Emirates are exhibited countries. Best5 Algeria will also host many visitors from different countries, officials from administrative authorities, sector professionals, elite businessmen.
In Best5 Algeria; Doors, Windows, Shutters, Roller and Glass Systems, Suspending Ceiling and Roofing System, Siding, Facade, Prefabricated Buildings and Accessories, Iron and Steel Products, Aluminium Profile, Construction Tools, Equipment and Mach., Pipes and Plumbing, Hardware and Fasteners, Bathroom and Kitchen Equipments, Heating, Refrigeration, Air Conditioning Systems, Floor Coverings, Wall Coverings, Ceramic&Marble, Municipal and City Equipments, Interior and Exterior Lighting, Electrical Devices, Solar Energy System, Mold and Pump, Cables and Electrical Instalation, Clipboard, Billboards, Lamp, Scaffolding, Formwork and Equipment, and many products will be exhibitied.
Business Match‐Making is a free & privileged service at Best5 Algeria for organizing business meetings between companies and buyers to achieve mutually beneficial results. Together with the benefits of match‐making, participants are able to discuss ways to increase cooperation amongst different markets and how to increase the business volume.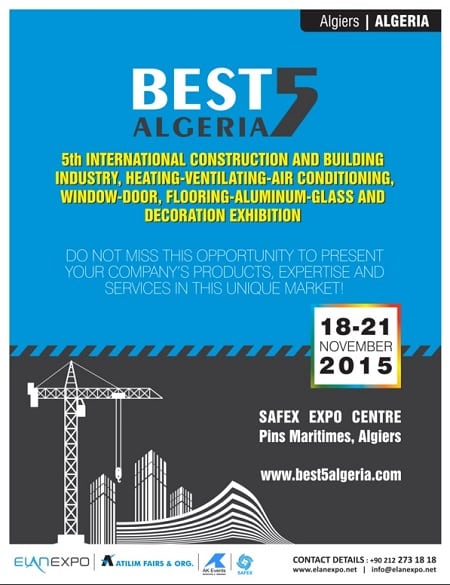 If you want to be a part of this lucrative project, you can visit Best5 Algeria between 11:00 and 18:00 o'clock on November 18‐21.