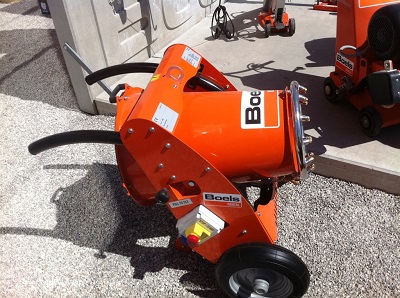 The European rental giant, Boels Rental, has placed a large order with Italy's DF Ecology for a fleet of their DF Smart portable dust suppression units. The order comprises of twenty units which will be dressed in Boels distinctive orange livery.
DF Ecology is a sister organisation to the respected lighting set manufacturer, Tower Light Srl, and is based alongside the Tower Light manufacturing plant in Villanova d'Ardenghi near Milan.
Boels already has an extensive fleet of TowerLight lighting products. The DF Ecology range first came to their attention at this year's Bauma exhibition and they took the decision to invest in DF Ecology products principally because of demands from their clients to provide environmental beneficial products. With the current dry weather, dust suppression on construction sites, both large and small, is becoming an important aspect to ensure the respiratory health of site workers. This means that Boels rental clients will be making a worthwhile contribution to air quality by emitting less unhealthy particulates into the atmosphere.
The DF Smart is designed to provide outside workers with safe protection from many different kinds of airborne contaminates. It is ideally suited for contractors working with dust producing equipment, such as disc cutters, wall chasers and similar machines. The DF Smart produces a fine mist of water through a series of high-pressure jets; the mist is then propelled onto the site by a powerful fan, rendering the area free from unhealthy and hazardous material. DF Ecology's research suggests that the DF Smart will become an essential health and safety component with trades such as builders, landscapers, light demolition contractors and recycling agencies.
Similar in size to a mini cement mixer, the DF Smart operates from ordinary mains power, 230V 50 Hz 2.2KW and weighs just 77kg with wheels for easy transportation. It consumes water from 3.6 to 5.8 litres per minute at 2.5 Bar via a quick-release ½" standard water hose connection.
Boels Rental has more than 300 locations in the Netherlands, Belgium, Luxembourg, Germany, Austria, Czech Republic, Poland, Italy and Slovakia. It is regarded as one of the leading European rental firms.
DF Ecology currently manufactures and markets an extensive range of water-based dust suppression products under the Dustfighter brand. The company is a division of the leading Italian construction equipment manufacturer, TowerLight Srl with a global network of distributors and dealers
Tower Light and DF Ecology products are distributed in the Netherlands by Diaber Benelux BV (www.diaber.nl).
Source: DF ECOLOGY/TOWER LIGHT Srl