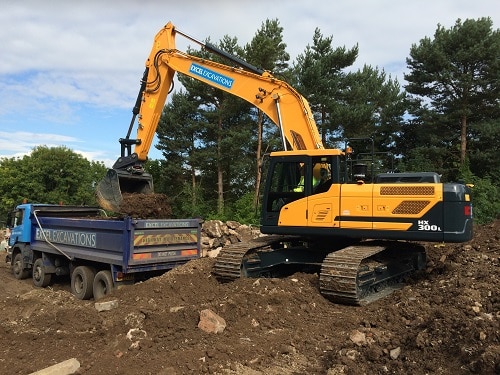 Excel Excavations, based in Trafford Park, lead the field in 'muck-shifting' in Manchester! The company is the first choice for contractors in the North West looking for bulk excavations. The company also supply building aggregates, carry out ground remediation, demolition and site preparation. Clients include Balfour Beatty, Taylor Wimpey, Costain and Persimmon Homes to name but a few.
Excel Excavations was founded 2.5 years ago by owner/director Allan Sice and has gone from strength to strength with a current fleet of 13 Scania trucks and four Hyundai excavators – including the latest addition to the fleet – a 30 tonne HX300L – the very first one to be sold in the UK, supplied by Hyundai dealer HES Enterprises, based in Irlam Manchester. The other Hyundai machines on the Excel team include a 3.5 tonne R35Z-9 zero tailswing compact excavator, a 14 tonne R140LC-9A excavator and a 22 tonne R220LC-9A.
Ray Ainscough is an integral part of Excel Excavations and is soon to made a director of the company, he said,
"We bought our first Hyundai around five months ago. We used to hire in machines before we made our first purchase from Tom Gibson at HES who was a regular visitor here – Tom was one of the main reasons we bought Hyundai and of course the fact they are great machines built to the highest of standards and top quality!"
Ray added,
"We needed a 30 tonner to cope with the workload – the new machine can load a wagon in four and a half buckets and can do it in a minute safely – other machines in its class can take up to two and a half minutes! The machine is currently working on a site where we are moving 24,000 cubic metres of earth – time is of the essence as well as safety and efficiency."
A key reason for the purchase of the Hyundai machine was safety, Allan Sice said,
"Safety plays a huge part in the work we carry out and our contractors demand the safest machines on their jobs. The new HX300 has a 360° camera system where the operator can see all around the machine with nine different views including a 3D bird's eye view. The system can also warn the operator if people or objects come into the machines operating range. I have spoken to our clients and they can't wait for the machine to be on their sites – it's already booked out for the foreseeable future."
Allan first saw the new HX300L in HES Enterprises yard following discussions with long term operator and employee Vic Morris who said to Allan that 'they needed to up their game and get a bigger machine'. Vic was then operating the Hyundai R220LC-9A, which he was very happy with, so it did not take much convincing for him to try out the 30 tonne Hyundai! Vic has been operating excavators for 42-years on a daily basis – so he knew what he was looking for.
"I was not familiar with Hyundai before so I was not sure what to expect – but when I tried out the R220 I was well impressed!"
Said Vic.
"The cab was spot on – the steps were well made and it was lively! So when I said we needed a 30 tonner and I tried the HX300 – I was expecting more of the same and I was not disappointed."
Vic added,
"Over the years I have operated many machines in this weight class – all of the big names and the Hyundai is a great machine. I tried out another well-known brand recently and it was flimsy and the door was rattling – you get none of that with the Hyundai. Another very important thing about this machine is that when it slews it's smooth – other machines 'groan' as they slew – and when you are in your machine all day the groaning gets to you."
So despite only being delivered Tuesday 1st September Vic is more than happy with his new yoke, its work capabilities and comfort! Allan Sice is also pleased with his new purchase he said,
"As well as a cracking machine we also get a fantastic after care service with HES – it's all part and parcel of the deal."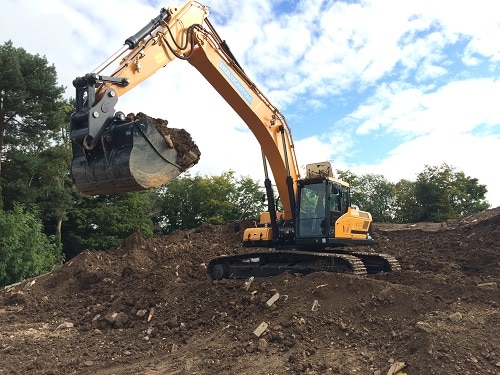 About the HX300L
The new HX300 L, 30 tonne, crawler excavator which, according to Hyundai, is one of the latest, most powerful and most ergonomic machines from the new Hyundai range of equipment. Hyundai report that the brand new HX excavator range has been designed by leading HHIE engineers from the very beginning to create a 'zero defect product' – making the South Korean manufacturer confident that the new excavator will take the UK market by storm!
Improved efficiency – more green and clean
The HX series of excavators are manufactured in Hyundai's Ulsan factory in South Korea and the HX300 L is fitted with the very latest 180 kW Cummins engine which complies with the latest emission standards Stage IV for the reduction of particles and NOX in exhaust gasses. Hyundai report that compared to the 9A series of machines –the HX range boasts a 90% reduction in PM and NOX. Hyundai has chosen a combined and proven solution with EGR and SCR technology – this results in a reduction of fuel consumption of up to 12% – depending on the type of operation – in comparison to Hyundai's 9A series of machines.
The HX300 L is fitted with an ECO Gauge which enables the economic operation of the machine. The gauge level and colour displays engine torque and fuel efficiency level. On top of that, it indicates the status of fuel consumption such as average rate and the total amount of fuel consumed.
Cycle time improvement
The HX Series provides higher productivity onsite by faster operation: the HX300 L can load trucks up to 5% faster and levels up to 4% faster than the 9A-Series. In order to achieve efficient grading, the HX series can apply boom floating control using arm-in and arm-out operation only, allowing stable operation even in high-load work.
New exterior design increases durability and safety
With the new engine technology, the side vent openings have been made bigger to ensure better air flow to the engine. The rear working lights have also been repositioned for a better view which is safer for the operator. A new machine guard has been installed and the air filters are now more accessible for maintenance.
The cabin has also been re-designed – a new larger front screen has been incorporated and the driver's door is now easier to open from the inside with an additional handrail. The interior of the HX-cab offers 13% more space for the operator (compared to 9A-series). A newly developed air conditioning system provides better air circulation in the cab.
Enlarged colour touchscreen for ease of operation
One of the most important innovations on the new HX series is the new and larger 8 inch touchscreen monitor – which can be operated when wearing gloves. It's also easy to read and the main view of the screen can be adjusted according to the preferences of the driver. It can be controlled via touch control and/or new haptic control switch, which is common in passenger cars. Connecting to a mobile phone is easier than ever.
Safety first with the 'Advanced Around View Monitoring' (AAVM)
Hyundai's new camera system informs you when people or dangerous objects are detected, offering the operator hi-precision control over the machine and the surroundings. The camera system comprises two major features: AVM (Around View Monitoring) and IMOD (Intelligent Moving Object Detection). Four cameras film at each side of the machine which means the AVM system offers a 360° overview of the field. The IMOD indicates all movements around the machine. Movement is shown on the monitor by putting a rectangle around the moving object or by indicating the side at which there is movement by arrows.
Hi-mate (Remote Management System)
The machine is also fitted with Hi-Mate, which is a remote management system, developed by HHIE. Through its satellite powered technology, customers can now enjoy an unmatched level of service and product support. With one press of the button, users are able to remotely evaluate machine performance, access diagnostic information and verify machine locations. It's even possible to program a virtual 'geo-fence' to prevent the machine from leaving a specific area.
Arm options.
Four different arms are available for the HX300 L as well as a long reach boom and arm combination for earthmoving, digging and loading tasks. Hyundai say that the HX300 L is also a perfect tool carrier for heavy demolition equipment.
Specification overview:
| | |
| --- | --- |
| UNITS | MEASUREMENTS |
| Operation weight | 30200 kg |
| Engine model | Cummins QSB6.7 – EU Stage IV |
| Engine power | 180 kW / 242 hp (1950 rpm) |
| Bucket capacity | 0.52 – 1.85 m³ |
| Digging force | 208.7 kN |
| Digging depth | 8,090 mm |
| Dumping height | 10,360 mm |
| Travel Speed | 5.8km/hr (3.6 mph) 3.2km/hr (2.0 mph) |