Turin, 11 April, 2016  CASE extends its D Series range of crawler excavators with a new model: the CX290D Material Handling. This model builds on the brand's long established history of being at the forefront of the materials handling industry to deliver high productivity and outstanding fine control.
Purpose built for material handling
The new CASE CX290D Material Handling crawler excavator is specifically designed and engineered for material handling applications. With its superior reach and lifting capacity, it makes short work of moving all sorts of waste, logs, garbage and scrap. The dedicated elevating cab structure provides the operator with a commanding view of the working area from a height of 5.06 metres. The reversible fan cleans the radiators more effectively, keeping high performance in the dusty conditions typical of many material handling applications.
The CX290D will also become available with goose necked arm and straight boom in the scrap loading version.
Designed and built for safety
Several features ensure the safe operation of the elevating cab. The rigid elevating structure enables the operator to work at their most productive with confidence in the machine's safety at full reach. The cab can be lowered from the cab or with an external control switch, for greater operator safety, and its descent speed is limited in case of a burst hose. The emergency cab lowering device is now operated hydraulically, further enhancing safety.
A new device prevents interference between the machine and its attachments through sensors placed on the bucket cylinder. Improvements to the pilot circuit reduce front attachment shock at full stroke. This results in a much less shaky cab, better comfort and greater safety around the machine. The front guard further enhances the operator's safety in the cab.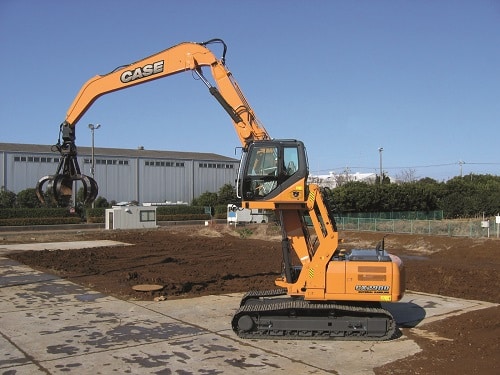 High performance with fast cycles
The CX290D MH benefits from the improvement brought to the D Series by the introduction of the Tier4 Final/Stage IV engine with Selective Catalytic Reduction after-treatment system and Diesel Oxidation Catalyst. This DPF-free solution saves time and maintenance costs, in addition to delivering a powerful and fuel efficient performance.
The improved hydraulic system results in faster cycles and the faster arm open speed provides an advantage when tossing scrap over.
Visibility enhancing features
The new features on the CX290D MH include a new LED working light package, which is more than three times brighter than its halogen equivalent. A third camera is also available to further enhance all round visibility.

 
Max Reach
Max Height
Max Depth
Lifting capacity
over end
@ 9m reach on ground
Lifting capacity
over side
@ 9m reach on ground
CX290D MH
11.6 m
12.6 m
3.7 m
6192 kg
4218 kg