At the Plantworx 2013 Exhibition Bobcat will be showing the new E25 compact excavator, the new 500 platform compact loader range and the new TL470HF telescopic handler for the first time at the show.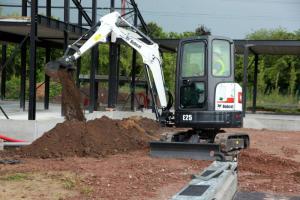 Part of the new E-generation of Bobcat compact excavators introduced over the last three years, the new E25 model offers all the advantages common to the E-Series: high reliability, exceptional operator comfort, smooth and precise workgroup operation and superior hydraulic performance.  All of these features can be seen in the other E-Series machines on display, including the E10, E14, E45 and E80 compact excavator models.
Easy transportation
Designed with the rental industry in mind, the E25, equipped with cab and standard bucket, has an operating weight of 2.571 kg and combines this with optimised stability and weight for easy transportation by trailer (maximum towable weight, including trailer: 3.5 tonnes).
Thanks to a new main control valve, optimized pump and higher working pressure, the hydraulic system allows smooth, quick and simultaneous operations in combination with powerful digging forces.  The maximum digging depth of the E25 model is 2582 mm, with a maximum reach at ground level of 4553 mm and a maximum dump height of 3057 mm.  A major feature on the E25 excavator is the incorporation of the same spacious cab used on the Bobcat 3 to 5 tonne range compact excavators.
New compact loaders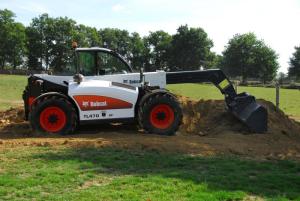 This will be the first showing of the new 500 platform compact loader range from Bobcat in the UK.  On show will be the S510 and S530 models, two of five skid-steer loaders in the range and the new T590 compact tracked loader, which is also part of the range.
Like the larger new generation 600, 700 and 800 platform models, the 500 platform machines offer a completely new design, combining over 50 years of experience in loader design with new developments to meet voice of customer requirements and incorporating many of the same innovative features and benefits that have proved so successful in the bigger machines.
The new 500 platform loaders continue the pattern set by the larger machines with significant advances in comfort, visibility, cab room, controllability and cab pressurization.  With overall performance and cycle times up by around 16% on the previous models, the new 500 platform loaders take efficiency and productivity to new, higher levels:
– More lift capacity, lifting further and higher
– Faster cycle times, higher breakout forces
– Much better traction providing greater pushing and digging power
– More hydraulic power for attachments
– Greater uptime, reliability and ease of maintenance
New High Horsepower Telehandler
Complementing the new Bobcat compact equipment on the stand, Plantworx will also provide an opportunity to check out the new Bobcat high horsepower TL470HF telescopic handler, expanding the range of new generation TL models.  Powered by the 97.5 kW (130 HP) Perkins 1104D-E44TA diesel engine, the new TL470HF offers higher horsepower and torque for superior performance and has a maximum travel speed of 40 km/h.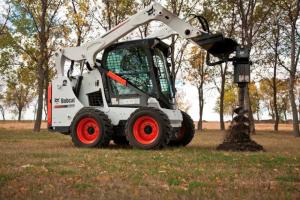 Thanks to the high horsepower engine, the TL470HF offers significantly increased torque, enabling improved performance and productivity. Combined with a new load sensing pump delivering a hydraulic flow of 190 l/min, the TL470HF model offers faster cycle times at a lower engine speed when performing both single and combined boom movements. This helps to reduce fuel consumption and improve efficiency.
The TL470HF telescopic handler has a maximum lift capacity of 3.5 tonne and a maximum lift height of 7.0 m. The capacity at full lift height is 3.0 tonne, while the maximum forward reach is 4002 mm and the lift capacity at full reach is 1500 kg.
Like the other new TL360 and TL470 models, the TL470HF is designed to handle demanding jobs in both construction and agricultural applications. The boom design, which features a fully integrated boom head, larger cross section and a longer boom overlap, ensures that the machine is well equipped to carry out the most demanding loading applications.
Thanks to a patented new asymmetric design, the right rear corner of the cab is free of structural components, providing an unobstructed view across the entire rear of the machine. In the front, the rounded windscreen and the lower pivot point for the boom ensure the operator has unmatched visibility of attachments at all heights and boom extensions.
Source: Plantworx