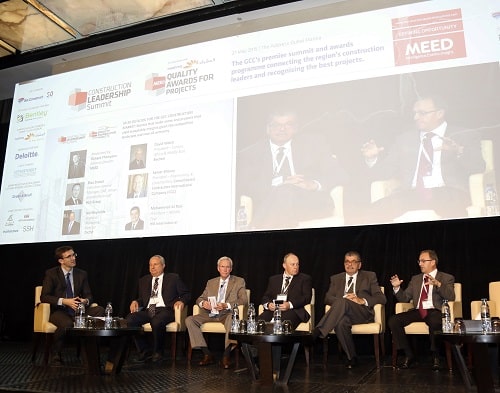 Dubai, United Arab Emirates; 28 May 2015 – Despite a projected slowdown in the GCC's construction market, investments in key areas must press ahead to alleviate the fall in oil prices, MEED's Construction Leadership Summit has been told.
Speaking at the summit in Dubai, Mohammed al-Rais, Middle East president at the US' Hill International said that even if oil prices remain low, there are certain areas that should not see a compromise in spending and investment. "Social projects for the people, which in certain areas fall behind, must continue irrespective of the situation. The issue is prioritisation by the authorities."
Samer Khoury, president of engineering & construction at Athens-based contractor Consolidated Contractors International Company (CCC) said, "Petrochemicals will slowdown but upstream will improve. Aramco will expand outside of the core business, but other countries will only focus on oil and gas upstream."
The summit also heard that major National Oil Companies (NOC's) will continue to press ahead with investment to maintain production in order to maintain government revenues.
Low oil prices have forced governments to concentrate only on essential schemes. The first four months of this year saw the second-lowest level of contract awards in the Middle East's construction sector since 2008, as the impact of low oil prices is felt in the industry. While work that was under way has largely continued unaffected this year, the region is experiencing a fall in new contract awards.
The total value of new contracts signed so far this year reflects this. $61bn worth of contracts have been awarded in the GCC up to 20 May 2015, down nearly 28 per cent on the $85bn over the same period in 2014.
With less new work being secured, diminishing backlogs may create a more significant slowdown in construction activity on site in 2016, while at the same time offering some respite to a market that in 2014 was starting to look overheated.
The impact is expected to continue throughout the year. Contract awards for work either directly or indirectly associated with the Expo 2020 in Dubai or the 2022 FIFA World Cup in Qatar are expected to still happen. But awards for projects that are not considered strategically important could slow down or stop.
Saudi Arabia has propped up the construction market so far this year and has several schemes in the pipeline. However, with the sweeping governmental changes made by King Salman bin Abdulaziz al-Saud, and his edict that projects costing more than SR300m ($80m) go through a committee review, upcoming awards could be in danger of being stopped or scaled back.
It is the same story in the UAE, where the 12-month growth rate has dropped from 13.5 per cent to 11.3 per cent. It will not significantly affect projects in 2015, but does mean a slowdown in the projects pipeline.
Given the outlook for oil prices, it is a trend that will continue as it is difficult to see where new projects will come from.
One city that is bucking the projects slowdown trend is Dubai, driven by tourism. The emirate is tendering a raft of major new hotels, attractions and infrastructure to cater for the 20 million visitors it hopes to welcome in 2020, when it hosts the Expo.
Of particular interest is the development of Route 2020, the metro extension to the Expo site. Questions about Dubai's liquidity, however, continue to cause concern.