NAH is undertaking two extensive infrastructure projects in Mount Lebanon Province using Volvo construction equipment to improve tourism and middle-eastern investment.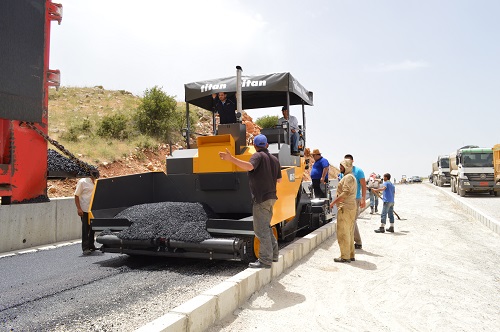 Lebanon lies on the eastern Mediterranean coast bordered by Syria to the north and Israel to the south. Even though its northern neighbor is experiencing instabilities, Lebanon remains active in terms of development. In fact, when looked at in a longer term context, the country has experienced fast growth over the last 20 years, especially in its private sector, with a strong aggregate demand and a flourishing banking sector. Mount Lebanon is located to the east of Beirut – a rural inland area surrounded by forests and as its name suggests, towering mountains.
The $29 million (€21 million) Bir Hayth to Kartaba road project tendered by Lebanon's Council for Development and Reconstruction was won by NAH Trading & Contracting, which specializes in infrastructure. The project will help to increase tourism in the area and foster local and middle-eastern investments. It will also serve a local population of 40,000 citizens. The new road begins in Fatri village – 45km from the capital Beirut and 500m above sea level – and finishes in Kartaba at an altitude of 1,250 meters.
The road will be 15.6 km long and 10 meters wide. Other work includes building adjoining infrastructure, water and waste drainage, laying a phone network, renovating current water and electricity networks, building secondary roads to nearby villages and installing safety barriers.
Before construction began in March last year, an extremely narrow road – built 40 years ago – was the only route for the up to 2,000 cars travelling the route each day. Add to its narrow width, no rain water drainage, safety barriers and up to a meter of snow in winter – and it's clear that the road was far from safe. At the time of writing, 50% of the infrastructure work has been completed and 100% of the construction works and road preparation is finished. The project is due for completion in spring next year.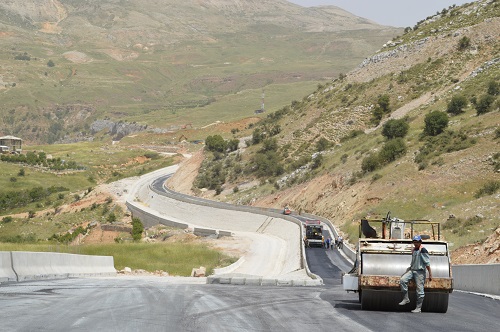 On the right path
NAH has been using a fleet of Volvo Construction Equipment (Volvo CE) machines on the job site, including one L150F-Series wheel loader, three L120E-Series wheel loaders, one SD100DC single drum compactor, four EC290BLC excavators, four A25C-series articulated haulers and in June last year, NAH bought the first factory overhauled paver Volvo ABG Titan 473-2 in Lebanon. NAH is also supported by subcontractor Fahim Saliba, also a Volvo customer, who has four Volvo excavators – two EC240BLC and two EC330BLC models.
NAH'S dealership in Lebanon, AMTRAC has supported the company for six years and provides onsite services to troubleshoot problems and conduct repairs – even in remote areas. NAH was established in 1963 and serves both public and private sectors across the country. It specializes in transportation and infrastructure projects and produces its own sand, gravel, ready-mix concrete and asphalt – as well as other construction materials.
Biklia to Sannine
Another highway project won by NAH and owned by the Lebanon Council runs parallel with the Bir Hayth project. The company is also working on the Biklia to Sannine development with the same high performing Volvo fleet.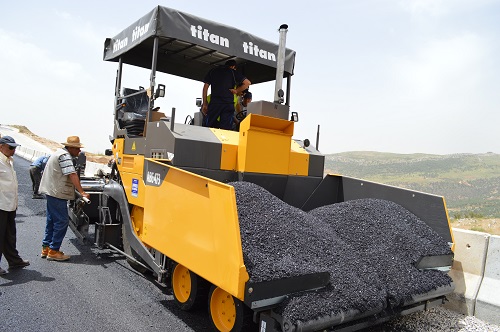 The 10km stretch of highway starts from Biklia village to Sannine, running through Zaaraour next to a popular ski resort. The project is worth $20 million (€15 million) and includes the rehabilitation and expansion of an existing 3km road, the construction of a new 7km by 11 meter wide road, deconstruction of the old roads, building retaining walls, water and waste drainage systems, installing safety measures and road signs, restoration of roundabouts and connecting roads and paving the new roads with two layers of asphalt for a robust and resistant finish that will withstand winter conditions and high traffic levels.
"The Volvo ABG Titan 473-2 paver has been rotating from one project to the other, allowing fast paving cycles and reliable, accurate paving with synchronized movement of the screed, according to the soil conditions," says Nassim, owner of NAH. "We have used other brands of pavers but we have never been fully satisfied until we acquired this machine. Operator and technical training was also held over four days by our dealer AMTRAC, which was really helpful for our workers."
The project is due to end in August 2014 and is already 85% complete. NAH have faced a few challenges during the project because of extreme winter conditions but the project has made good progress overall. Once complete, the road will boost the economy and enhance the existing road networks between towns – as well as increasing tourism at the nearby ski resort.
"Volvo articulated haulers have exceptional maneuverability over muddy and rocky terrains, especially for the Sannine project where soil turns into mud during the winter," says Nassim. The soil is naturally very fine and weak, which caused a road to collapse and increases the risk of slipping. The machines have fast cycle times and are reliable in these difficult conditions. AMTRAC also has an exceptional after service team and parts availability. Its engineers, mechanics and technicians assist us very quickly and efficiently, maintaining low machine down-time. We are glad that we are on time and will finish with no delays."
Lebanon is rebuilding its infrastructure and connecting the mountains with the seaside and cities, which encourages foreign investment and shows the ambition and determination of a strong nation.
Source: Volvo CE