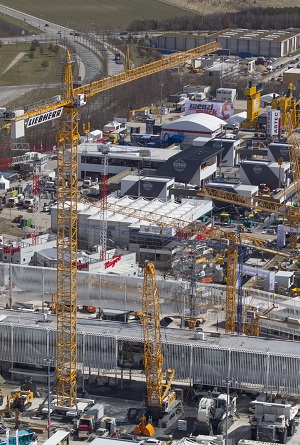 bauma 2013 is ready for the start: Between April 15 and 21, Messe München will be opening the gates on the world´s biggest trade show – the "International Trade Fair for Construction Machinery, Building Material Machines, Mining Machines, Construction Vehicles and Construction Equipment". But before it gets underway, here´s a rundown of the key facts and figures concerning this mega event:
Exhibitor statistics
This year´s show is even bigger than the last event in 2010: bauma 2013 is taking up a total of 570,000 m² of exhibition space, spread between 16 halls, accounting for 180,000 m², and the outdoor exhibition area, offering 390,000 m². Over 3,400 exhibitors from 57 countries will be showcasing their innovations here.
The Top Ten exhibiting countries are:
Germany (1,366 exhibitors)
Italy (481 exhibitors)
China (323 exhibitors)
USA (132 exhibitors)
Turkey (124 exhibitors)
UK (123 exhibitors)
Netherlands (122 exhibitors)
France (90 exhibitors)
Spain (80 exhibitors)
Austria (70 exhibitors)
Advance registration and expected visitor numbers
Already, the number of visitors registering their attendance in advance has risen as compared to the same stage in preparations for 2010. Messe München is now expecting over 450,000 visitors to come to the show. In the past an average of 51 percent of the participants traveled by public transportation to the venue. It is important to remember in this context that the entrance tickets to bauma no longer include free travel on public transportation – attendees will have to buy a transportation ticket separately. To help exhibitors and visitors choose the right transportation ticket, Messe München is providing an "Arrival Planner" to download from: http://www.bauma.de/en/anreise/anreise_1.php. This lists the different ticket types from which bauma participants can choose the one most appropriate to their needs. At the subway (U-Bahn) stations, you can just scan in the relevant barcode into a ticket machine, to get your ticket. To do this:
Press the green "Easy" button
Scan in the ticket barcode
Pay for the ticket in cash or by card
At the suburban railway (S-Bahn) stations, and at Munich Airport, the ticket machines also have a special "trade fair" button.
Opening times
Monday to Friday: 9:30 to 18:30
Saturday: 8:30 to 18:30
Sunday: 9:30 to 16:30
Tickets
Visitors can save time and money by buying their ticket to the show in advance, online. For further information, go to: http://www.bauma.de/en/besucher_1/ticket_kaufen/ticket_kaufen.php.
bauma Forum
This year again the bauma Forum in Hall C2 will be featuring many highlights. To review what´s on offer in the supporting program, including provisional timetable, go to: http://www.bauma.de/en/bauma_forum_2/uebersicht_2.php
THINK BIG
bauma 2013 will also be turning the spotlight on the next generation. On a 3,000-m2 event space the VDMA Construction Equipment and Building Material Machinery Association, Messe München GmbH and the LandBauTechnik Bundesverband are putting on – for the first time – an extensive program targeted at young people. The aim of the initiative is to fill young people with enthusiasm for technology and the construction and building material machinery sector in particular.
Research live
At the West Entrance, there will be an "International Information Centre Research Live". At this display, the ninth of its kind, 20 universities from Germany and abroad will be presenting the latest results from research and development projects. The event is being organized by the Technical University of Dresden.
Further information www.bauma.de
Source:  Messe München