What is MS & Africa Middle East?
The official presentation took place presented last May 14 during a press conference held in Cairo attended by Osama Bahsa, Commercial Director of the Egyptian Ministry of Industry and Trade, and Maurizio Massari, the Italian Ambassador in Cairo. MS Africa & Middle East – The International Trade Fair for Stone Design, Technology, Earthmoving and Building Machinery (www.msafrica.net), is the start-up event launched by Veronafiere and scheduled in the Egyptian capital 9-12 December 2013. The event "merges" Marmomacc (www.marmomacc.it) and Samoter (www.samoter.com), Veronafiere's best known brands in the construction sector. The aim is to strengthen internationalisation and improve penetration into neighbouring markets in Africa and the Middle East.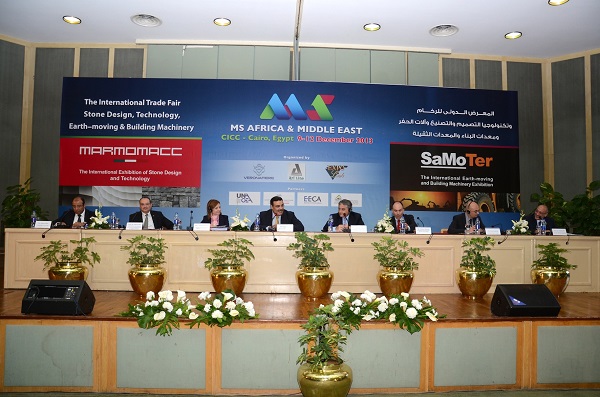 MS Africa & Middle East is promoted by Veronafiere together with Art Line, the leading Egyptian organizer of exhibition events, and ExpoLink, the Egyptian Exporters Association. Veronafiere's partners also include Unacea (Italian Association of Construction Equipment & Attachment Companies) and Confindustria Marmomacchine (the reference association for the natural stone field and stone processing machinery and equipment) and, on the Egyptian side, EECA (Egypt Expo & Convention Authority) and the Export Council for Building Refractory and Metallurgy industries.
Who are the exhibitors and visitors at MS Africa & Middle East?
The initiative aims to combine the entire natural stone chain in a single event, from stone quarrying and processing to quarry and construction site machinery and vehicles, through to the finished product: excellence in the building field, in terms of materials, know-how, technologies and equipment, will find a qualified audience of buyers including architects and interior designers, construction companies, distributors, rental, professionals in the quarrying world and earth moving equipment from many countries.
An area at the exhibition will be dedicated to the second-hand sector, which has important market opportunities in Egypt and in Africa.
Why exhibit? Why Egypt?
Although experiencing an unstable political situation like almost all countries in the Middle East and Africa, Egypt enjoys a privileged geographical position making it a candidate for the role of hub for Africa and the Middle East. The country has also launched a series of major infrastructural development projects, such as the doubling of the Suez Canal, announced recently by the Egyptian Government, and the three new tunnels (two road and one rail) under the canal for orders totalling more than 550 million euros.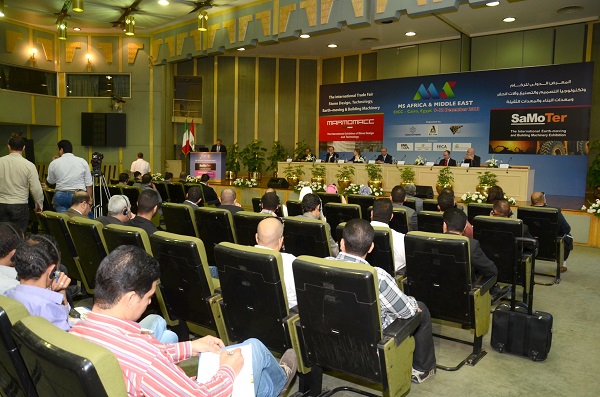 Thanks to free trade agreements signed with many countries, Egypt also offers zero duty export opportunities. In particular, the Agadir Agreement (2004) established a free trade area that includes not only Egypt but other Mediterranean Arab countries (Jordan, Morocco, Tunisia), while the establishment of Comesa (Common Market for Eastern and Southern Africa created in 1994) sees Egypt rank as a preferential trading partner with 18 other African countries (Burundi, Comoros, Democratic Republic of the Congo, Djibouti, Eritrea, Ethiopia, Kenya, Libya, Madagascar, Malawi, Mauritius, Rwanda, Seychelles, Sudan, Swaziland, Uganda, Zambia and Zimbabwe).
Many Egyptian firms are interested in joint ventures or business agreements with international partners seeking to operate in Egypt and, through Egypt, also in Africa and Maghreb precisely by taking advantage of the unique opportunities offered by the customs and fiscal regime.
Buyers program
MS Africa & Middle East envisages a specific program whereby selected buyers will be invited from: Algeria, Angola, Saudi Arabia, Bahrain, United Arab Emirates, Kuwait, Libya, Morocco, Namibia, Oman, Qatar, Rwanda, Tanzania, Tunisia, Yemen and Zimbabwe. This event is a unique opportunity to meet qualified people from all over the region.

Why Marmomacc and Samoter in Egypt?
Italy is Egypt's leading European trading partner and second in the world after the United States with business coming to more than 4.5 billion euros: Egypt offers excellent business opportunities in many fields, first and foremost those where Veronafiere – with its Marmomacc and Samoter brands – is recognized as a world leader.
The Egyptian natural stone industry – among the top ten in the world – also boasts significant turnover with Italy: Italian exports of finished and semi-finished marble and granite products in 2012 came to 2.8 million euros (+59% over 2011), not forgetting 51 thousand tons of unhewn blocks sold in Cairo (+3.5% over 2011).
Data published by the Cairo Office of ICE (the Italian Agency for International Promotion and Internationalisation of Italian Companies) suggests that the construction sector in Egypt is one of the most dynamic in the national economy, having recorded steady annual growth of 10% since 2000, for a total value of 4.4 billion euros (0.6% of GDP in 2009-2012).
Domestic demand for new houses and infrastructures has great need for Italian construction machinery, with imports in 2012 totalling 17.5 million euros (+50% on 2011): the positive trend is also confirmed for 2013, with January figures up by 10% compared to the previous year (Unacea data). Exports of Italian construction machinery in 2012 recorded sales in North Africa worth 173 million euros (+19% compared to 2011) and 213 million euros in the Middle East (+10% over 2011).
Initial feedback
MS Africa & Middle East has already aroused the interest of sector companies: positive feedback has already been seen from Italy, India, Brazil, China and the Balkans Region.
Discussions are being finalised with EECA and Export Council for an impressive area of 2,000 sq.m. for attendance by leading Egyptian companies.
Several major names in earth moving have already signed up, primarily Caterpillar, Doosan and Bobcat – the latter recently revealed that Africa and the Middle East by now generate 30% of the brand's total turnover.
MS Africa & Middle East and training
Thanks to experience with Marmomacc and Stonexpo Marmomacc Americas, MS Africa & Middle East will also welcome a strong educational program. Companies will have the chance, also through their own technicians and experts, to illustrate the operation of products and technologies; a series of courses for architects (include internationally renowned tutors) is also being finalised to focus specifically on the use of different types of materials, stone and marble.
It is also well worth mentioning that Marmomacc is the only exhibition recognised as an official provider of training courses dealing with the use of natural stone earning the credits needed to maintain membership of professional orders registers for U.S. architects (AIA), Great Britain (RIBA), Canada (RAIC), Australia (AIA), South Africa (SAIA) and Hungary (MEK).
The training area at MS Africa & Middle East and its consolidated format of courses + walk-arounds involving exhibitors, will also be located directly inside the event to ensure even more visibility opportunities for companies who would like to collaborate.
Benefits for international exhibitors
Hotels with convention agreements: special rates have been negotiated with a number of hotels located near to the exhibition centre, with a shuttle bus service to and from the event (for details, reservations and timetables of the shuttle consult the page: www.msafrica.net/lang-en/travel-accommodation);
Promotional packages: "turnkey" set-up options are available + hostess + hotel (for more information: [email protected]);
Free Wi-fi: this service is available free of charge for exhibitors (thereby facilitating the use of audio/video systems for product presentation) as well as for visitors.
SPECIAL OFFER FOR VERONAFIERE'S GROUP EXHIBITIONS
If you already booked your space in Marmomacc 2013 (Verona, Italy) or Médinit Expo 2013 (Casablanca, Morocco) or Samoter2014 (Verona, Italy) or Stonexpo 2014 (Las Vegas, USA) or Vitoria Stone Fair 2014 (Vitoria, Brazil) you'll get a discount of € 10/sqm on the fee for indoor area (unequipped) and outdoor area.

Source: Samoter