The most significant improvements of the new Komatsu PC700LC-8 centre on a perfected operator environment with excellent comfort, safety and precision.
As all Komatsu excavators, the PC700LC-8 comes with an industry-leading, low-noise, comfortable cab, easy access to maintenance and service functions. The new, highly rigid cab includes a fixed, laminated front windscreen for increased operator protection, a heated high-back air-suspension seat, and a standard rear-view camera giving the visibility and control to maximize productivity. Also new, for maximum efficiency, a widescreen LCD colour monitor panel integrates KOMTRAX™ "Step 3" functions with fuel consumption monitoring.
Beyond these direct comfort and performance benefits, owners and operators will appreciate the other great features of the new PC700LC-8.
Powerful, the PC700LC-8 has a gross horsepower of 323 kW and an operating weight between 65.540 and 67.100 kg. Bucket capacities up to 5.58 m³ can be installed, depending on boom and arm length, material density, and application conditions.
An arm "quick return" circuit returns a portion of oil flow to the hydraulic tank at arm dumping to reduce hydraulic pressure loss. Combined with a new arm regeneration valve, which exchanges oil from one end of the cylinder to the other, the work equipment speed is increased, truck loading is faster, and fuel consumption is reduced.
The machine features many upgrades and reinforcements compared with the machine's sister PC600-8. Including a dramatically increased undercarriage size with massive drawbar pull of 465kN, the machine is purpose designed for maximum lifetime performance in the machine's normal, but severe, working environment. The SE bucket size was also increased by 14% to 3.5-4.0 m³, even for material density of 1.8t/m3. A strengthened revolving frame, fully enclosed by underguards protects the machine piping against rocks from below, also preventing the hydraulic components and the engine from damage.
The PC700LC-8 has several operational modes with which the operator can perfectly match engine output to the work at hand, thereby lowering fuel usage. This Komatsu excavator is a class leader in terms of reducing both fuel consumption and harmful emissions.
The PC700LC-8 is equipped with Komatsu's KOMTRAX™ "Step 3" technology which provides daily machine information through a secure website utilizing wireless technology. Features now include energy saving reports with tips for a more fuel efficient operation, location, cautions, load ratio, and maintenance alerts. All data is relayed to the web application for analysis. The KOMTRAX™ fleet monitoring system increases machine availability, reduces the risk of machine theft, allows for remote diagnosis by the distributor, and provides a wealth of other information to drive business efficiency and productivity.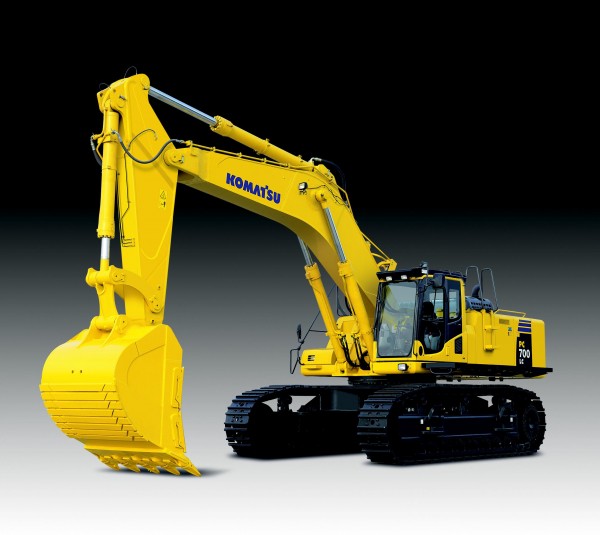 Quick Specs:

PC700LC-8

Operating weight

65540 – 67100

Engine

SAA6D140E-5

Engine power (ISO 14396)

323kW

Maximum Arm/ Bucket breakout force (2.9m arm)

294kN / 362kN

Max digging depth




(7.6m boom, 3.5m arm)

8325mm

Maximum Drawbar Pull

465kN
Overall working width
(610mm shoes)
4290mm
Source: Komatsu News Room