New Technology – New Features – New Venue
Hot on the heels of Bauma Munich, the Plantworx Construction Machinery Exhibition hosted by the CEA (Construction Equipment Association) is almost upon us! The 4th biennial working construction event is taking place at its brand-new home at the East of England Arena in Peterborough from 11-13 June. New for 2019 is the complementary event, RAILWORX, which will cast the spotlight on the boom in rail-related civil engineering. The show will benefit from 20% more exhibition space than at its previous location in Leicestershire and spans more than 140,000 square metres – that's an area bigger than 20-premier league football pitches – so a good pair of walking boots are advised.
The event is set for a record 450 exhibitors – with some one-third making their show debut. Rob Oliver, Chief Executive of the CEA (Construction Equipment Association said, "After Bauma, Plantworx will be the first opportunity to see new products from many of the major OEMs. With the advent of Stage V engine requirements – and more entrants into the electric-powered arena, Plantworx 2019 promises to be the best yet to see new machines."
At Plantworx visitors can see machines and tools being put through their paces on one of the many demonstration areas around the show. Visitors with the correct operators' licences and PPE are invited by many of the manufacturers to 'have a go' on their machines and test out the latest in earthmoving machinery in working site conditions.
Ground-Breaking – in the Dig Zone
Exhibitors who will be demonstrating their earthmoving machines and 'breaking-ground' include a wide range of leading manufacturers such as, Marubeni Komatsu, Finning UK & Ireland with Caterpillar, JCB, LiuGong which will include Dressta machines, Takeuchi, Mecalac Construction Equipment, Hyundai, Avant Techno, TDL Equipment, new comers J Mac, with the Sunward range of excavators and many more.
With the increasing demand for tiltrotators on jobsites key manufacturers have also reserved demo plots to show visitors the full capabilities of these attachments. Confirmed exhibitors are Engcon, Steelwrist and Rototilt. Excavator and bucket manufacturer Digbits is also in the digging zone alongside Auger Torque.
No-Dig and safety systems
The show also has a no-dig zone – where exhibitors will be demonstrating but not 'breaking-ground'. Exhibitors confirmed in this zone include Altrad Belle, Bomag, Thwaites, Wacker Neuson, Thwaites Dumpers and Worsley Plant.
Visitors can also expect to see static displays of machinery from SMT, Merlo, Ausa, machine safety system manufacturer, GKD Technologies, Merlo, Manitou, the very latest in engine technology from Perkins, Brokk UK and MTS Suction Solutions.
Many new launches have been confirmed by exhibitors. Here, we highlight a selection of companies exhibiting new products, equipment and/or services at the show.
Hidromek, is showing the new HMK 145 LC SR excavator, the company say it's designed to work with power and precision in tight spaces, reducing the risk of damage and improving safety in all fields and conditions. Opera Control System is used to facilitate the easy use of the machine. Stand G3
Hyundai Construction Equipment is coming to Plantworx with a range of machines including examples from the new A range of machines. Taking centre stage will be the HX220A L (stage V), crawler excavator, which includes EPFC, Auto Safety Lock, Eco Guidance and MG/MC. Hyundai will also have a demonstration area where machines will be in action. Stands H15 & H16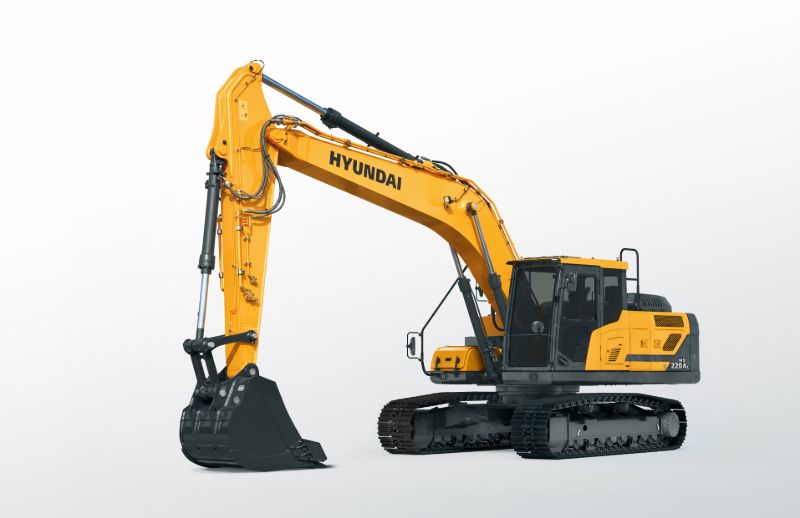 Kubota is showing the new KC70-4e, which is capable of the same high performance of those that run on diesel or petrol but allows users to work where gas emissions or noise levels are restricted. The KC70-4e is equipped with a state-of-the-art lithium battery (48V – 200Ah) and has a payload capacity of 700kg. With a width of 750mm the electric mini dumper is able to enter buildings with ease. Stand K8
RSP UK is showing its latest range of Suction Excavators at the show.  The RSP team will assist visitors with configuring the perfect machine by opting for the combination that suits your organisation. Stand FA7
Molson Compact Equipment will be showing machines right across their new range of Kobelco compact excavators. From 0.8 to 9 tonne these 'true blue' machines have a reputation for operational smoothness, low noise levels, reliable construction and low fuel consumption. Visitors to the stand will be able to try out four models on the demonstration plot, trying their hand out on a number of operator challenges. One of these models for demo will be the brand new SK75SR-7 which was launched at Bauma in April. Stands H56 & H46
The AVANT e6 is the first electric compact loader on the market with a lithium-ion battery. AVANT has developed the state-of-the-art battery and battery management together with Valmet Automotive. Lithium-ion battery technology provides significantly better performance compared to lead-acid batteries. In light use, a lithium battery performance is roughly 30% better than lead-acid batteries. In heavy use, the operating time is up to three times longer. Stand H11 & H12
Hydrema have launched a 7t articulated dump truck. Designed to comply with the UK safety regulations for site dumpers, this new Hydrema offers all the benefits of a larger ADT but with the compact size of site dumper and low centre of gravity of a tracked machine. The 707G complies with ISO visibility standards and with one-step-entry the operator need only take a single step to get into the cab and can remain seated while the truck is loaded. Stand JA1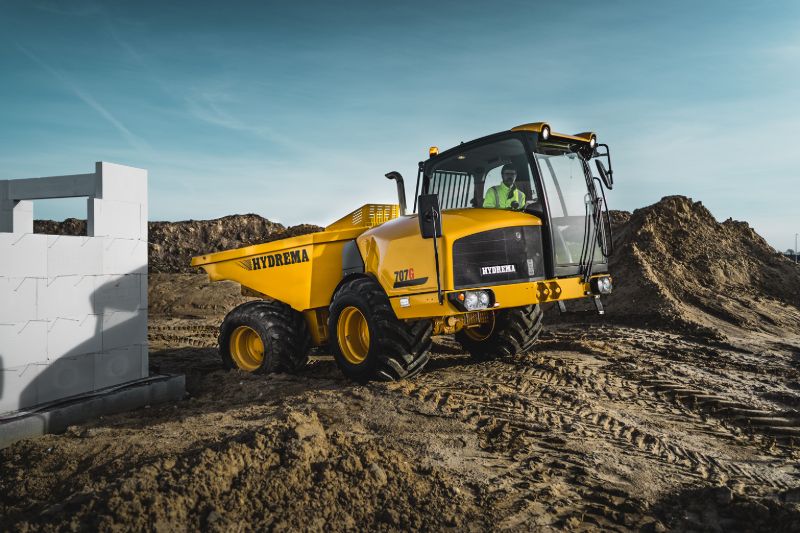 Miller will be exclusively launching, what they claim to be, their safest, most innovative, intelligent quick coupler; the GT Series at Plantworx 2019. The innovative GT Quick coupler features an Intelligent Coupler Connect System as well as a novel ISO complaint locking system, devised to ensure that the widest set of OEM pin pickups are safely attached even if there is a loss of hydraulic power. Stands H26 & H27
Red Rhino Mini Crushers UK Ltd is introducing the new 5000 Plus and Screener Plus models. The latest Red Rhino 5000 Plus model is fitted with a vibrating feeder tray and has the latest Kubota 05 Series 4-cylinder diesel engine.  The Red Rhino Screener Plus is an upgraded model of the current screener which gives extended conveyors which gives increased stock pile capacity. Stand DB11
Capital Seating is showing the Actimo Evolution seat – which is according to the company – the premium-comfort seat for wheel loader and excavators. Equipped with a low-frequency pneumatic suspension to compensate vibrations and jolts even more effectively, plus a fore & aft isolator to minimise vibrations in driving direction. Stand LA3A
The Elliott Fireflex modular building system has been specifically designed to provide enhanced fire protection to help operators meet the requirement of The Joint Code of Practice (JCOP) on the Protection from Fire of Construction Sites and Buildings Undergoing Renovations publication. Stand CC2
Garden & Hire Spares (GHS LTD) is showcasing its exclusive brand WAR TEC Platinum. In this ever-increasing range of quality replacement parts for small plant & garden machinery, GHS Ltd have produced an outstanding range of cylinder & piston kits bring together quality and precision with Nikasil ® lining, Italian produced pistons and Caber ® piston rings, unrivalled ingrediencies for outstanding performance and value. Stand AC19
Fluid power specialists, Webtec has recently launched an Introduction to Practical Hydraulic System Maintenance, a new guide for all fluid power technicians. This invaluable tool is aimed to help educate technicians and engineers new to hydraulic fluid power maintenance and hydraulic engineers. All profits made from the book will be donated to support STEM (science, technology, engineering and mathematics) Stand AC27
TCP (Taylor Construction Plant Ltd) has developed a clean air alternative to a 5KW diesel generator for off grid applications by combining two of its product innovations together. TCP's LGP 2500 Power Pack and ECO GH2 DC hydrogen fuel cell generator have both been designed to work together to produce a clean air alternative to a 5kW diesel generator for off-grid applications. Stand RJ1
SMT GB is showing the new Volvo EC60E, replacing the outgoing EC55C, the more powerful and productive EC60E crawler excavator from Volvo Construction Equipment is built for comfortable, efficient operation in a wide variety of applications.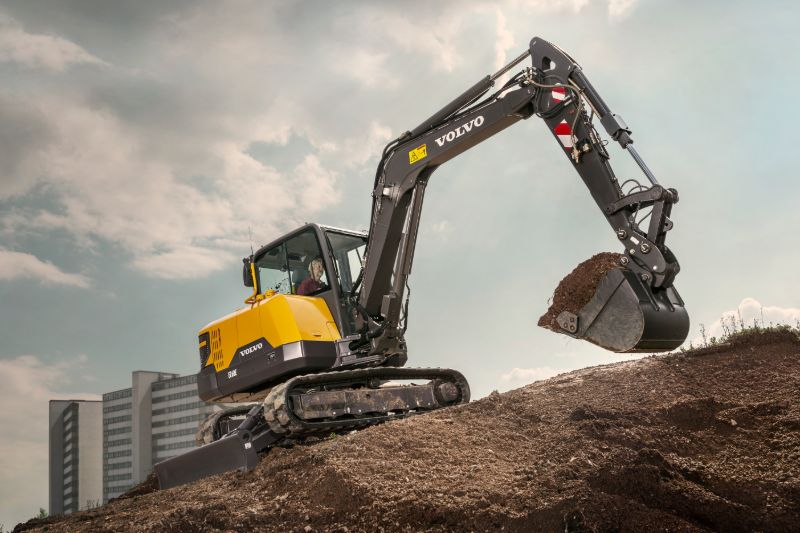 This machine offers improved traction, excellent swing force and high lifting capacity to achieve outstanding results, fast. With a compact design, long arm, and optional fixed boom and offset boom, the versatile and powerful EC60E is suitable for a large range of applications. Stand B1
In 2018, Mecalac commenced a game-changing R&D project to redefine the compaction roller market. The result – its all-new TV1200 – this new concept is driven exclusively with a joystick on the right-hand side console. In removing the roller's steering column, Mecalac has revolutionised the access and driving style of this type of vehicle. Stand H39 & H40
JCB has launched three new 13-16-tonne X Series excavators purpose built for ground working specialists – the models will be at Plantworx this year. The 131X, 140X and 150X models boast the JCB X Series hallmarks of robust durable design, increased productivity and improved operator comfort and ease of use.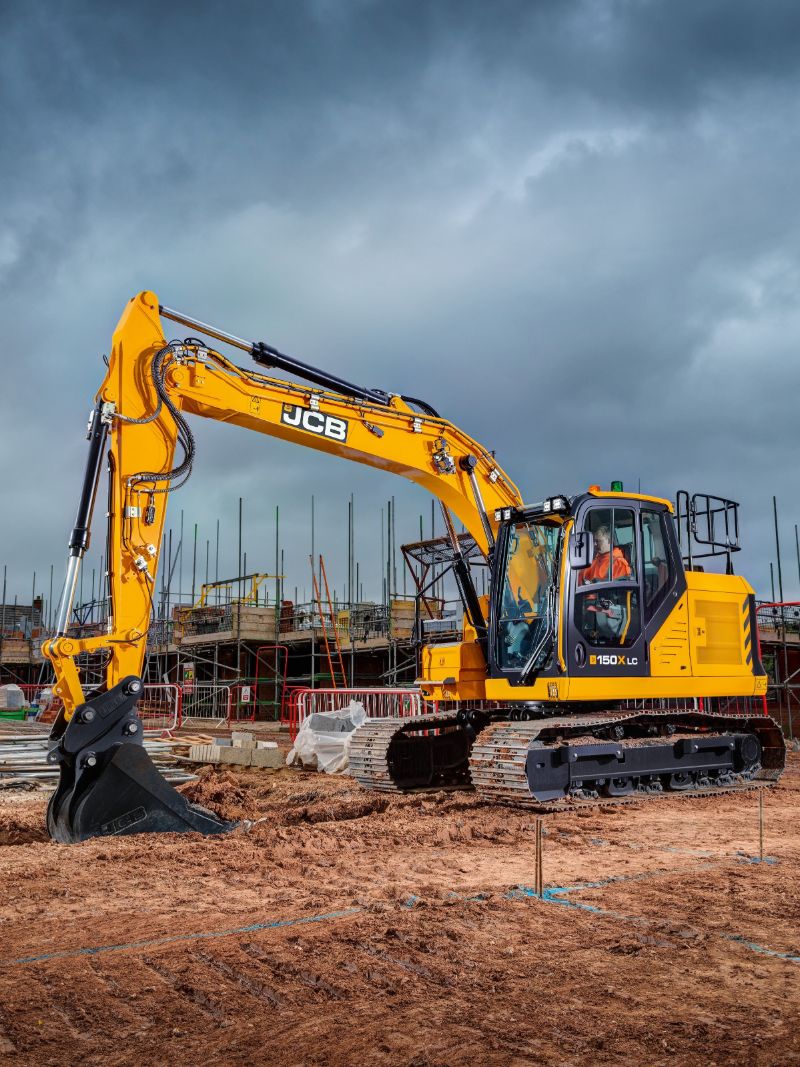 Key features include: a wider operator cab for all-day comfort, in cab noise reductions of up to 68%, modern styling with durable strike points to reduce total ownership cost and increased diameter high-flow pipework to boost efficiency. The two larger models also deliver a 6% improvement in tonnes per litre productivity. Stands H43 & H44
Tobrocco-Giant is showing the company's all-rounder GIANT skid steer. Whether it concerns construction & demolition or maintaining roads and paths, the GIANT skid steer loader cleans, sweeps and demolishes! This ultra-compact machine has a minimum width of 76cm built with 350kg lift capacity. It can be equipped with an integrated diesel particulate filter reducing emissions by 90%! For working with hydraulically driven attachments (rotary mower, sweeper, hydraulic hammer, etc.) the machines can be equipped with a double gear pump. Stands BE7 &BF6
Messersì Spa is showing its new TC120-e full electric remote control tracked dumper. This model is a 'special' version of the well appreciated tracked dumper TC100d. Features include a tracked fully electric undercarriage a wide footprint, high stability and excellent driving comfort in all conditions. Electric transmission powered by two inverters, two electric motors and two planetary gears. Stand FD8
Briggs Equipment is an engineering services and asset management specialist that has said it has transformed the contract hire of industrial machinery. Its diverse strategic partnerships enable us to provide materials handling equipment, industrial cleaning equipment, aerial access, groundworks, agricultural plant and machinery; a true one-stop-shop. Stand NC7
Brigade Electronics is a market leading supplier of safety devices and is introducing its new Backsense Radar On-Screen Display. Brigade's Backsense® radar sensor systems detect people and objects in vehicle blind spots, significantly reducing accidents.
Working in conjunction with a Backeye® camera monitor system and up to two Backsense® Network radar detection systems, the on-screen display module warns the driver of obstacles in the danger zone by overlaying 5-stage audible and visual radar data onto the camera image on the monitor. Stand AA28
Safesmart Access is available in 4m & 6m platform lengths, according to company, the Safeloader platform is the perfect solution for truck access, maintenance, or mobile washbay. The 45-degree stair access allows the operator to access the platform safely especially if carrying equipment. Manufactured from Aluminium on 200mm Castors allows the user to easily manoeuvre the platform into place without the need of other plant or machinery. The 500kg SWL mean that several personnel can use the platform at any one time. Stand ND1
Genquip Groundhog is showing its new SWO7600 Fusion Pulse welfare cabin that will have solar panels built into the window shutters so when open they will be able to be manoeuvred into position to gain maximum benefit for sunlight/daylight. This will increase efficiency by over 50%thereby ensuring on board battery is charged quicker and more efficiently thereby reducing generator usage and carbon emissions whilst on site even further. Stand B2
The Niftylift HR12L was developed as the 'low-weight' alternative to Niftylift's bestselling HR12N. It was specifically designed to be light enough to be transported on a trailer allowing smaller hire companies to transport it without the need for significant investment in larger vehicles. At 2540kg (2470kg Lithium option available), the HR12L is significantly lighter than its competitors. Stands JC1 & JC9
Air-Seal Products tyre sealants are a major solution to tyre management and have been well proven over the past nineteen years. One treatment of the company's tyre sealants can prevent up to 95% of all punctures up to 1¼ inches (30 mm) and stop all rim, bead and other slow air leaks. They are widely used in HGV's, loading shovels, dump trucks and other heavy plant. Stand FE8
OKO is showing its LifeLong wheel and tyre life extender. This is not a sealant – but for construction operators who have big thick tyres that do not puncture frequently, it extends tyre life even more – by an average of 30% – and using advanced nanotechnology it coats the wheel rim, preventing and even reversing corrosion. Stand AC21
Prinoth is introducing it line-up of tracked dumpers to the UK market, the Panther Series. The vehicle showing at Plantworx is the Panther T14R Rotating Dumper. Prinoth say it offers the highest speed combined to the highest payload of any vehicle in its class setting new standards in productivity and off-road mobility. Stand LB5
MHM Plant will be demonstrating their green credentials by exhibiting three sustainable products at this year's Plantworx. Taking centre stage will be their MGTP 10000 solar hybrid generator, which produces 10kVA of power via its solar panel, battery pack and diesel engine. The MGTP 10000 will be flanked by the X-Pole Solar and the X-Solar Hybrid lighting towers. Stand B3
HPC KAESER is focusing on its MOBILAIR M118 at Plantworx. The powerful combination of a high efficiency HPC KAESER SIGMA PROFILE rotary screw air end and a fuel-saving Deutz drive engine certified in accordance with EC Directive 2004/26, Stage IV and EPA Tier 4 final delivers pure air for more than just emissions-free zones. The M118 features exhaust gas treatment with an oxidation catalytic converter and an SCR system. Stands LB1 & LB2
AJC EasyCabin have brought to the market a range of welfare units powered by a combination of a hydrogen gas powered fuel cell and an advanced solar power system, with ZERO emissions – the H20Solar Pod will be coming to Plantworx. AJC's research discovered that many units were not only using a diesel generator, but the generator remained on full power at all times. Stand BG6
PortaKabin is showing the Konstructa Modular Fire-Safe building, which offers the highest levels of fire protection for your construction site, giving you complete reassurance that the fire safe building will safeguard your site against fire and its spread. The modular building also benefits from reduced energy costs and carbon emissions, having an EPC A rating. Stand CB2
Excavator Forklift have designed and applied for a patent for a forklift attachment for small – medium excavators, to enable them to load, unload and carry palletised loads they currently cannot lift, greatly improving their usefulness. At Plantworx – the company will be launching our attachment to the public and demonstrating four proof of concept 'Excavator Forklifts'. Stands NC6A & NC6B
Takeuchi is back at the Show with a new towable mini. The new Takeuchi TB225 2.25 tonne mini machine is ideal for tool hire companies looking for a towable mini that sits safely within trailer towing limits.


The machine was specifically designed to meet the growing demand by hire companies who wanted a heavier Takeuchi within trailer towing weight. Available in both cab and canopy, it powers in just under 2400kg cab or 2265kg canopy with plenty of room for extras in the trailer. The machine also comes with an integrated trailer tie-down. Stands H32 & H33
Magni UK is showing the new Magni RTH 8.25SH at Plantworx. This model was first launched at Vertikal Days, the model at its launch, held the record for being the heaviest capacity rotating telehandler in the world. This high performing model can lift 5.3 ton at 25 m height and 1 ton at 21 m reach; this performance is even more astonishing if we think of its very compact dimension and the weight of just 24 ton. Stand DC3
The Merlo ROTO range has changed the movement method for telehandlers by introducing the rotating turret system that could rotate 360 degrees without having to reposition the machine. Now the new ROTO family marks a new era, introducing new standards in the field of telehandlers for the Construction sectors and expanding the product offer with three different ranges. The new ROTO stands out for the next high-comfort cab, the new "modular" construction concept and for the use of technology that increases safety standards and an unparalleled level of performance and efficiency. Stand D3
PMX was conceived as part of James Fisher Prolec's strategy to improve worksite efficiency and safety nationwide and is a pioneering development in construction plant equipment safety and telemetry technology. This innovation combines two widely accepted technologies – excavator hazard mitigation and global geo-positioning systems – to mitigate risk on a site-wide level, while reducing operator workload. The resulting system delivers transformative benefits in terms of site safety, operational efficiency and cost reduction, providing peace of mind to asset owners and their construction partners. Stands N9 & N10
GKD Technologies have developed a new, simplified safety system designed to support its range of motion safety indicators. The company has adapted its trusted and unique algorithms to provide a height and slew system combined into one slim lightweight display. The award-winning height and SensorHeight&Slew is a fully adaptable system which can be configured to control only one function; height or slew or both. There are further options to stop the machine on reaching limits as well as a travel inhibit feature. Stand N5
Rototilt says that a tiltrotator completely changes the way of using an excavator. It transforms the excavator to a multi-tool carrier. Until last year, this was only possible at excavators up to 32 tonne. With Rototilt's new model R9, the biggest tiltrotator in the universe, this is now also possible at excavators up to 40 Tonne. Stands H7B & H8B
Visit EC Hopkins to see the latest diamond chainsaw offerings including our new electric saws. They will be both displayed and demonstrated. Stands JC6 & JC7.
As electrified powertrains become ever more popular and an increasing number of electronic governors require throttle control through CAN in the agriculture, construction segments, MCS (Mobile Control Systems) has developed a range of CAN J1939-compatible throttle controls. The line-up includes throttle pedals (suspended, floor mounted and under-floor mounted) a heavy duty and finger-tip hand throttles, rotary throttles as well as throttle position sensors. Stand EB11
Trackunit's Trackunit Go is the one-stop shop for actionable insights for fleet owners, managers and service technicians. Trackunit Go provides a solution to some of the most common pain points in the construction industry: Unauthorized equipment access, use, and theft; Unplanned downtime; Utilization and planning of service and spare parts. Stand AB17
Scanprobe Techniques has launched their first ever mobile app, designed with customer and engineering in mind, whether you were a Scanprobe customer or not – mina has been designed to complement the company's pipeline inspection systems but also the industry as a whole. Best of all, it is free to download!
Through mina, the user has the ability to perform a few value-add operations, that add value and clarity to their pipeline inspection survey. Stand AC14
Tufftruk is bringing the new TRUXTA range of award-winning battery powered mini dumpers. Compact and portable the TRUXTA Bendie allows access into the most environmentally sensitive areas allowing eight-hours of continuous operation with zero emissions. The compact battery unit with an in-built charger also provides noise-free operation. Stands LB7 & LB8
Brendon Powerwashers is showing its award-winning Dustec DT400 water-powered dust and odour suppression solution, which works as an attachment to the company's range of powerwashers. It operates by using the water to drive a fan, which generates the air flow needed to help launch fine water droplets into the atmosphere. The water is then returned to the powerwasher to be recycled or pumped to waste, ensuring a controlled amount of water is delivered for suppression. Stand DB8
Bunkabin shows off its latest unit the 'Bespoke Sleeper' the largest and most comfortable single sleeper in the market. Boasting Ensuite shower room, full size fridge and microwave with wardrobe and desk space to suite all needs. Stand CC1
Advanté is showing the Oasis® Welfare range. Oasis® units are available in different sizes and there are 10+ layout options in both the EcoLogic and EcoMax ranges.  The company's latest innovations include the NEW Oasis® PowerStation, a multi-battery charging facility that supports a cable-free environment, and the NEW Vision 19, a 2+1 Toilet Block available with a shower or multi-faith toilet. Stand JF1
Fuelwood (Warwick) is one of the UK's leading suppliers of forestry and firewood machinery and will be showcasing the latest Plaisance forestry mulchers at Plantworx, along with the range of wood chippers from Heizohack, forwarding trailers from FTG, and a host of other timber processing machinery. Stand K7B
Montracon has taken a leaf from the car industry when designing its new MT45 machinery carrier by engineering a standard specification base platform, with a range of optional modules, providing a trailer with unrivalled load versatility and its owner with optimum operational flexibility. The MT45 is plated up to 45t gross trailer weight and includes a low-profile trailer neck coupled with a reduced incline air operated neck ramp. Stand NA6
Taylor's Trailers is showing the original checkerplate plant trailer. Also on display will be newly released mini excavator trailers, single drum road roller trailers, portable toilet trailers and a new mobile welfare unit on display – relaunching the company's Mr Mobile Range. Stand JA5
Bobcat is the first manufacturer to launch a fully electric, zero-emission mini-excavator in the 1 tonne class, the newE10e. With a transportation width of just 72 cm, the compact, Zero Tail Swing machine passes easily through standard doors and elevators, making it ideal for indoor demolition work. This is combined with no emissions and low noise, making it a perfect choice for this type of work. Stands K1 & K2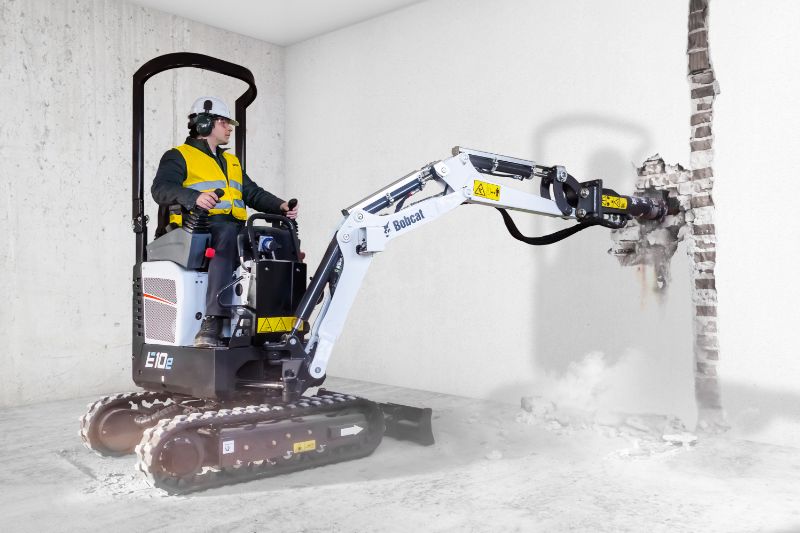 Dawson Construction Plant has recently revamped the DCP Redeb Sheet Pile Capping System – which it says is – the only purpose made sheet pile capping system. The DCP System can easily and efficiently be formed with only a minimal number of components, allowing the DCP System to be assembled, removed and reused by unskilled labour. Stand MB2
Yanmar has released its first Stage V compliant engines, having received certification for the European off-road emission legislation that came into effect from January 2019. There are three Yanmar air-cooled diesel engine models available under 19kW; the L48V, L70V and L100V. Ranging from 3.1kW to 6.8kW these engines feature both recoil and electric start facility. Stand DC7
Finning will be showcasing the new range of Award winning Next-Generation Caterpillar Mini-Excavators at Plantworx, giving UK customers the chance to experience the huge range of features that make operating easier and more efficient. The eleven new models in the Cat® mini hydraulic excavator line-up start at 1.5 tonnes and stretches up to Caterpillar's first ever 10 tonne excavator. Stand H18 & H19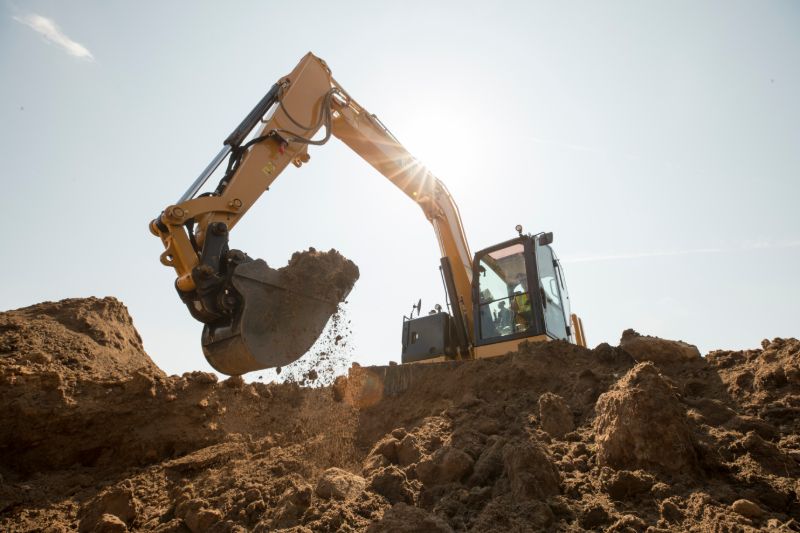 TDL Equipment will be showcasing and demonstrating the Sany SY135C, complete with increased hydraulic power and improved fuel efficiency, the 14.9T excavator boasts a customised Isuzu engine, smooth Kawasaki hydraulics, comfort cabs with industry leading 5 year/ 10,000 hours boom, chassis and dipper warranty. Stand H28 & H29
SITECH UK & Ireland will be bringing the latest in machine control technology to Plantworx this year in the form of the Trimble® Earthworks Grade Control Platform.
This next-generation control system is designed to optimise your mixed fleet and create an integrated site solution. With a simple and intuitive platform utilising Android™UI on a 10-inch touch screen, visitors can learn more and trial the system on the company's advanced simulator. Stand AE30
Atlas Copco's E-Air electric-powered compressor is part of the company's new award-winning Power Technique range. The E-Air provides up to 40% greater flow for the same power consumption as conventional portable compressors while weighing less and having a 15% smaller footprint than comparable models. Stand EA8
BPH Attachments. Featuring a patented replaceable screening net system, the PRODEM PSB-R range is the ultimate in flexibility, durability and productivity for screening material on demolition, construction, recycling and landfill sites. The PRODEM PSB-R Rotary Screening Bucket is ideal for material selection, aggregate recovery, waste separation, filling containment cages, covering pipelines, and more. It is also available in a wheel-loader version and is suitable for use on excavators weighing 2.5-75t. Stand FC3 & FC13
Amongst Rhinox attachments on display will be the new Rhinox Ripper tooth which Rhinox say can be used in the toughest of applications without worry of breaking the ripper attachment. The Rhinox ripper teeth are available for machines from 0.75 ton up to 8 ton, and are also useful for stripping our tree roots, rocks and other hard to remove objects. Stand DB14
A-Plant is helping to strengthen safety at customers' sites with their new six-tonne Dual View dumpers. Designed to enhance visibility and eliminate blind spots, their revolutionary swivel skip dumper sets new standards in terms of operator and construction site safety, flexibility and cost effectiveness. Stands M1 & M2
Altrad Belle will showcase the new RPX 59 range of heavy-duty reversible plate compactors which are being launched to extend the RPX family alongside the RPX 35. Built to withstand the harshest site conditions, it has an improved baseplate design for excellent gradeability, increased travel speeds and a higher compaction force for shorter usage times and deeper compaction. Stand G4 & G5
Brokk UK is returning to Plantworx with its biggest ever line up of radio-controlled demolition machines, which are now all fitted with its Smartpower™ electrical system. Brokk's range of Darda hand held splitters, and the group's latest acquisition hydro-demolition company Aquajet, with the new Ergo system. Ecovolve electric dumpers will also be on show. Stand B6
Goldhofer Aktiengesellschaft, have developed a new semitrailer – the ARCUS PK- with a revolutionary new steering system. This new product is the first low loader semitrailer with friction-steered pendular axles.This results in the advantage of better steering performance and time savings by not having a need for any adjustments to the steering system before starting the transport. Stand LA7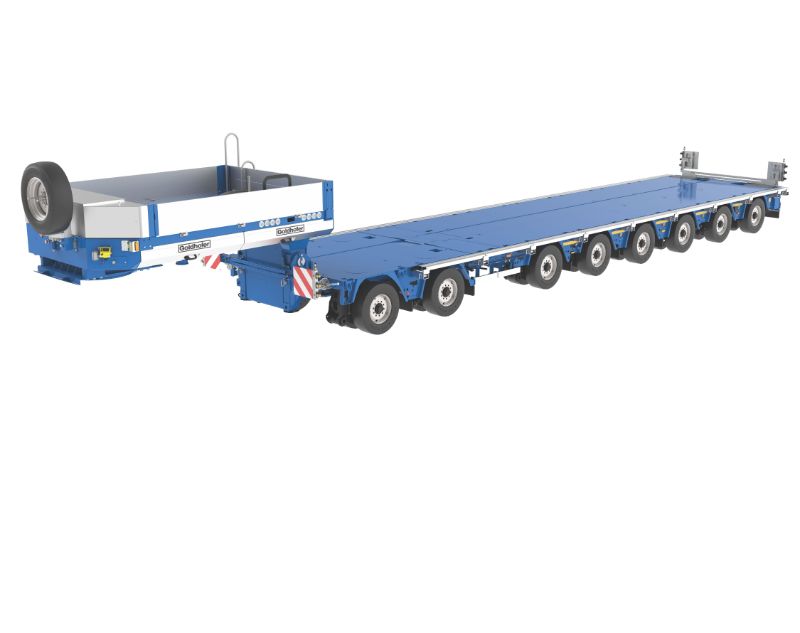 MultiMatts Ltd is showing its range of commercial and industrial matting solutions available for Hire and Sale. From Temporary Access Mats and Portable Roadways to Ground Support, Stabilisation products and even Event and Industrial Flooring solutions. Stand EC3
Elite GSS Ltd is a specialist supplier of Temporary Access Solutions such as Ground Protection Mats, Hardwood Timber Mats and Steel Plates. At Plantworx visitors will see a variety of products which Waterfilled Barriers and the company's new Range of Water Bowsers. Stand EC6
HYTORC is showing the LITHIUM SERIES II Electric Torque Tool, which the company say is the next revolution in bolting technology, which has been redesigned from the ground up with expanded functionality, greater durability, and intuitive usability. This lightweight 36 Volt battery powered tool available in configurations up to 5000 ft-lbs is the ultimate solution for strength and portability in industrial bolting jobs worldwide. Stand AD20
Following initial demand from the plant hire sector in response to HS2 requirements the CEA and Datatag have proposed a simple extension of the already widely accepted CESAR Scheme. The Emissions Compliant Validation (ECV) programme provides the easy guidance necessary by adding a relevant tamper evident and colour coded emissions ID plate to a machine alongside the already applied CESAR plate. Stand FB16
HTS Spares is showing Plant Tag©, which the company say, is the quickest and easiest way to visibly tag plant and equipment of any size with a hire status label. The Plant Tag© 'traffic light' system allows status identification at a glance! It's hard wearing, weatherproof, reusable and cost-effective. Stand at JF10.
CanTrack Global's is showing its award-winning CanTrack Protect asset tracking device. This purpose designed tracker has been designed to combat the techniques thieves use to locate and remove other tracking devices by detecting when the signal is being jammed and automatically switching to an alternative location technology. Stand DB13
ABAX is showcasing its theft recovery GPS products at the show. The ABAX Equipment Control is the core product on offering when it comes to protecting plant equipment from theft, whilst generating other data such as usage reports, time on-site, alerts & a real-time location of the assets. This easy-to-use solution is the perfect, pocket size approach to giving yourself peace of mind. Stand ED8
Promax Access is launching to the UK market a new RR14 EVO-2/400 HYBRID Road-Rail access platform. Complete with the latest Hatz Tier 5 diesel engine, this Hybrid version features a 400Ah lithium battery pack, with on-board management system and charging facility. The RR14 EVO-2/400 model is designed to work on a 200mmm cant and features a unique auto-levelling turret. Stand N1
Atlantis Tanks is showing its PortaFuel and StoraFuel range which the company say offers the very best in terms of transportable fuel tanks for use in many different sectors to refuel machinery and/or any other needs, such as bulk fuel storage to service fleets of vehicles. Stand B5
Young Black is showing the award winning RB441T/CE TwinTier – a re-bar tying tool that has already proved popular with some of the UK's leading construction and concreting specialists since its launch in 2018. Young Black's new model marks a step change in development that gives serious efficiency and health & safety benefits. Stand MA3A
KENWOOD DAB car audio will continue to be at the cutting edge of digital radio, with high spec multi-line display models, all future ready. Kenwood say that operators can also have two phones connected for hands free Bluetooth calling and 5 for streaming technology. Music can be played back from various streaming apps including Spotify and Apple music. Stand AA11
inspHire has announced the launch of its new and improved Operated Plant module which delivers a full end to end digital process for complex resource-based scheduling and timesheet driven activities. Businesses will like the ease in which they can assign their trained operators to machines, quickly cross-referencing availability against the competencies needed to carry out a job. Stand AB13
Siltbuster, a UK leading supplier of water treatment technology to the construction industry, will be demonstrating that there's more to water treatment than just equipment. At the event Siltbuster will be showcasing its Clarity which is a ground-breaking award-winning, real time monitoring system which means contractors and subcontractors know how their on-site water treatment is performing 24/7. Stand DA1
Tyre Boss will be showing the next generation of Cushion solid tyres. They are ideal for loading shovels, wheeled excavators, telehandlers, re-handling machines and have a super deep tread giving 4x the life of a pneumatic tyre. The company say that their cushion solid tyres are sure to provide you with a reliable, maintenance free solution. Tyre Boss also have an extensive range of pneumatic OTR and construction tyres for applications that do not require cushion solids. Stand EB8
K-Form uPVC Screed Railing provides the construction industry with an economical, efficient and environmentally friendly alternative to steel shuttering. Made from recycled materials, K-Form is lightweight, durable and does not require removal after concrete pouring. Stand AD9
Changes to legislation has meant volumetric concrete mixers have had to drastically reduce their payload from 40 plus tonnes down to 32. Armcon's designers rose to the challenge and created the brand-new Dura-Light machine which can hold 8m3 of concrete compliant with axle weight regulations (AWR) all under 32,000 kg. By incorporating modern high specification Hardox and Strength performance steels Armcon has also improved the structural integrity and durability. Stand EA3
Pavemac is showing it KS12-16 Extendachip which is a new innovative design with a focus on safety. A review of past incidents surrounding chipper operations has led to significant investment into the improvement of the Aggregate Chip Spreader. Operational reliability, enhanced controls, manoeuvrability and ease of operation were central to the development of the KS12-16. Stand PB19
Arrow Machinery is showing its Arrow 770 Kerbmaker which is winning the Kerb Race reducing the time by 50% and the cost by 30% as against conventional methods. A three-man crew can extrude up to 400 meters of kerb race per day allowing early access to the site. High strength Kerb Race straight from the machine, no formwork or shuttering required. Stand AE16.
To help overcome the repetitive lifting of heavy concrete or natural stone kerb stones Probst Handling Equipment have developed a machine that allows the operative to pick up a pallet and then lift and lay without the need for the operative to undertake any physical lifting. The Probst TM TransMobil allows through the powering of a vacuum turbine the safe lifting of kerbstones of paving flagstones up to 150kg. This capacity can be increased up to 250kg with additional fittings. Stand LA1
Ground-Guards, award winning, KerbGuard 400 and 900 kerb protectors are a totally new concept in site support for housebuilders. They are an environmentally friendly product, manufactured from 100% recycled PVC, and protect the kerbs throughout the duration of the project. Stand FC 9
Concrete Services Supplies is showing the new Ligchine SpiderScreed which is a drive-in screed designed specifically for high rise upper deck work and slab on grade. The machine is lightweight and powerful, featuring a 100% TIG-welded tubular aluminium cage design that only weighs 1,100 lbs (500kg). It also uses the patent pending 3-wheel Versa-Drive™ system, offering independent zero-turn, all-wheel, 90° horizontal, lateral drive systems. Stands FA1& FA4
MBW Europe's ATS and ATP rollers have been developed to give contractors a highly effective, low cost alternative to self-contained rollers. All MBW's rollers come with a universal quick attach system for skid steer loaders and are available in either 73inch(185cm) or 84(213cm) inch widths. The ATS and ATP rollers feature patented exciter shafts, which minimise deflection, provide lower operating temperatures and give our attachments one of the industry's lowest incidences of bearing and seal failure. Stand FC1 & FC16
The Digbits Grading Beam is a versatile excavator attachment to enable a fast but precise level finish, especially across a large surface area. The Grading Beam is fast becoming the more preferred option over a standard Grading Bucket. In comparison levelling can be carried out in one wider pass saving valuable time. Stands H37 & H38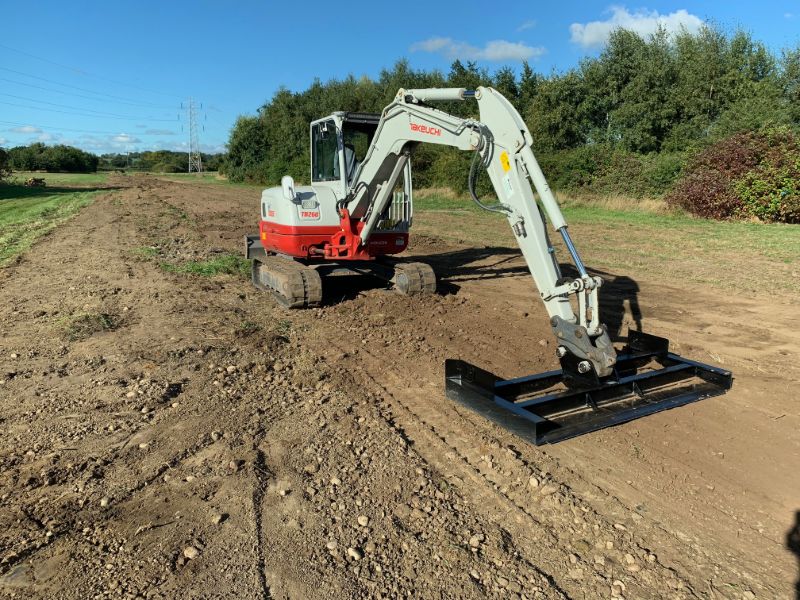 MachineMax is a revolutionary wireless telematic device, allowing you to take control of every machine in your fleet. Using MachineMax enables you to capture live machine data, which helps to reduce fuel, idling, CO2 emissions and maintenance costs. Installation takes less than a minute thanks to a unique wireless design. It is IP68 rated and built to stand the harshest conditions; wherever you are. Once setup, you can start monitoring your machines immediately in the app. Stand AB19
Teletrac Navman recently launched Site360 to meet the evolving needs of the construction sector through one, unified telematics system. The new platform equips construction businesses with the hardware and software needed to manage multiple assets, including plant, equipment, tools and HGVs, at any one time, giving accurate real-time reports via a desktop or mobile device. Stand AB28
Leica Geosystems, part of Hexagon will be showcasing the capabilities of 'connected construction'. From capturing reality, design and validation through to construction, as-built verification and maintenance. Visitors to the stand will be introduced to their new cross-machine all-in-one 3D machine control software MC1, as well as a variety of new technology to support project workflows from start to finish. Stand EB3
On the Barrus stand – ready to meet Stage V emission regulations, the John Deere engine range offers ratings of 36 to more than 500kW (48 to more than 670hp) with displacements of 2.9L through to the new 13.6L. John Deere has pioneered advanced emissions technologies for previous tiers which provided the foundation for its Stage V solutions. Stand DC7
Perkins is showing its new 1204J-E44TA engine at Plantworx 2019. The 4-cylinder, 4.4-liter engine meets EU Stage V and is available in multiple power ratings from 82–150 kW with peak torque reaching 825 Nm. Ideal for equipment manufacturers who are looking to downsize, the new engine offers significant machine productivity benefits with 15 percent increase in power, 10 percent more torque and 5-10 percent reduction in fuel consumption. Stand DA7.
Hatz GB will be showcasing their EU Stage V compliant 3H50TICD as an Open Power Unit (OPU) featuring a simple plug and play solution. The Hatz Silent Pack will also be of interest as it reduces noise by 60% and visitors can view the complete Hatz range that are certified for Stage V. Stand DB1
Sterling GP will be displaying its new ST440 Step Frame Low Loader Trailer. The first Trailers released are configured primarily for Access Transportation and boast feature such as full dual-serrated galvanised mesh decking to maximise traction & widening handrail safety systems. Ultra-low loading angle, sliding double flip ramps and high payload are also important features for transporting Access Platforms. Stand CA6
Stock Sweepers is showing its new 'Quadvac', a road sweeper that the company says packs the most advanced road sweeping technology, with the highest standard specification of any machines in the current market. The rear suction nozzles follow the ground contour with high pressure water which allows for ultimate cleaning performance even with surface imperfections. JF11
Hook-Up Solutions is bringing the Hooka – a revolutionary lift and carry crawler, back to Plantworx.  At only one metre wide, yet with a lift and carry capacity of 1.5 tonnes, it offers construction companies / builders unrivalled access for delivering materials and installing I-Beams into the heart of sites – providing huge savings on time and money.  Stand MA10 & MA11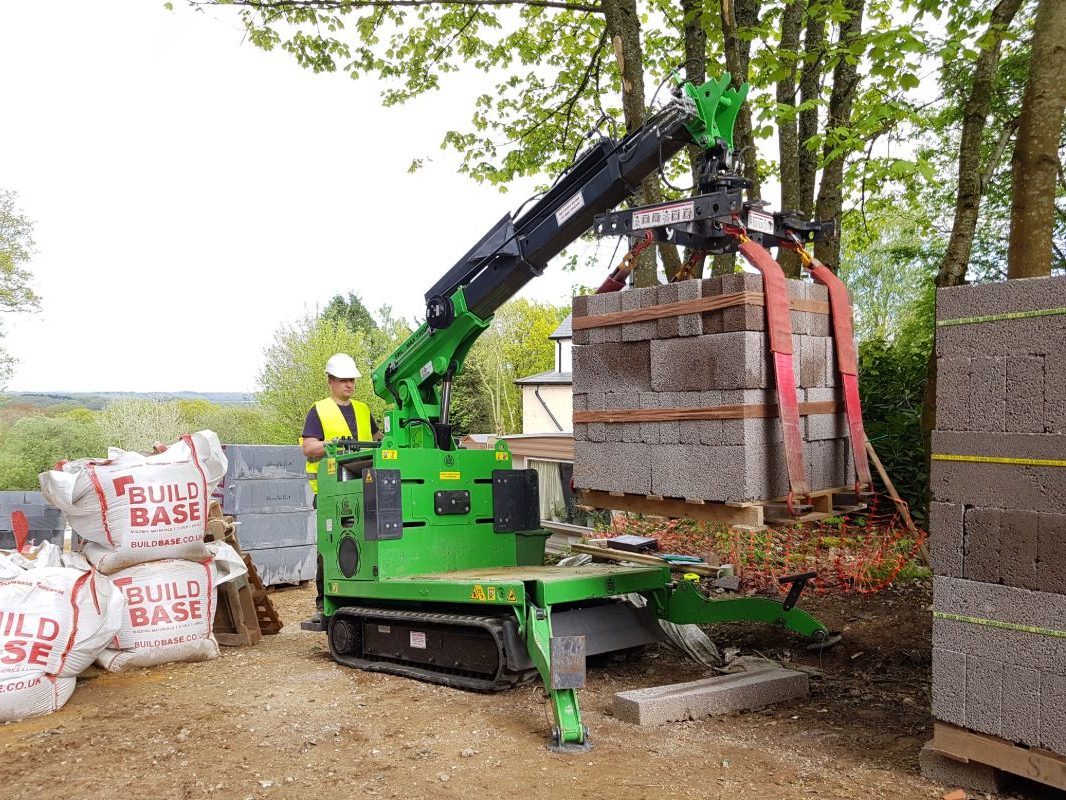 Radiodetection is showing the flexiprobe P540c, which the company say, is the most powerful Pearpoint controller ever designed, providing intuitive menus and dedicated function buttons to guide you quickly through your survey. Built-in templates create reports that comply with multiple standards and which can be shared via email, DropBox or USB. Stand No.  AE28
Euroflo is a leading supplier of high-quality site pumps. Its range of pumps includes Grindex submersible pumps, dredging pumps & super silent diesel pumps. Available for hire and sale the company's range of pumps is specifically designed for tough site conditions such as dewatering & piling applications. Stands JC8 & JC13
Filtration Ltd is showing the Donaldson diesel filter cart X770816. provides a convenient portable mode of off-line filtration, flushing and fluid transfer. In-series pressure filter can provide fine particle removal and a water absorbing element to obtain particulate and water removal. The powerful 50 lpm pump provides efficient fluid transfer and filtration. Stand AC8
Finance & Insurance Services:
Haydock Finance is a leading asset finance company by providing practical, customised financing solutions to the logistics and material handling industry nationwide.
So, whether you're buying or selling material handling equipment, come and talk to the company about its flexible asset finance. Stand 6D272.
Societe Generale Equipment Finance is a global leader and an award-winning funder for the provision of vendor and equipment finance.  Offering businesses flexible financials solutions for the acquisition of new and used construction plant and equipment. Stand EB9
Liberty Leasing is the UK's largest independent & award-winning asset finance company which offer asset & vehicle finance to a full spectrum of UK based businesses as well as being specialists in Refinance and FCA authorised. Stand AB30
Ultimate Finance UK say that they can help if you are extending credit terms to your clients and are concerned about rising insolvencies in your sector. As a credit insurance broker, they can help find you an insurance policy which will protect you from the risk of non-payment of debts owed and if you already use credit insurance, we might find you a better deal. Stand AB25
Construction Plant Finance Ltd provides competitive and flexible finance solutions exclusively for the UK construction industry. The company say that they are significantly filling a 20-year gap in the construction sector and is the first independent finance company to be introduced solely for the construction plant and equipment sector since 1997, that is neither owned by a bank or linked to a manufacturer. Stand DC6
Trade Associations & People and Plant providers
The DSA's (Drilling & Sawing Association) mission is to promote the work of professional drilling and sawing contractors by highlighting the main advantages of cutting concrete with diamond tools, which include precision cutting within the shortest time scale, reduced noise, dust and debris and maintenance of structural integrity.
The DSA is committed to its Members in helping create a positive role within the Specialist Contractor sector of the construction industry. Stand EC10
F&M Engineering's team of skilled agricultural inspection engineers have experience in selling, driving and maintaining the machinery involved. All engineers are certified by Lloyds British so customers can rely on their advice and the safety of the vehicles they inspect. All lifting equipment will comply with PUWER and LOLER standards following in-depth inspections and ensure that you are HSE compliant, year in, year out. Stand AB27
A Good Practice Guide on the Safe Use of Dumpers will be available to visitors to the CPA stand at Plantworx.
This comprehensive 88-page document has been produced by the Strategic Forum Plant Safety Group and chaired by the Construction Plant-hire Association (CPA). The guidance was produced following a spate of fatalities involving forward tipping dumpers such as overturns and individuals being struck by dumpers. Stand CE4
Explore Plant & Transport Solutions is a complete one stop shop for everything a company's next construction project needs. As one of the UK's leading FORS Gold providers of a variety of general and specialist transport, haulage and plant equipment, the company says its commitment to safety, efficiency and quality is unmatched. All its transport fleet, haulage and plant equipment come with operatives fully trained in on-site maintenance at no extra cost. Stand LA1
Banks Plant Solutions is an experienced and skilled plant and equipment engineering team providing comprehensive plant maintenance services to the waste, recycling, construction, mining, quarrying and plant hire industries across the North East of England, North West and North Yorkshire. Stand AB22
Education:
The CITB National Construction College offers a wide range of Plant training courses and other construction related courses. Including Health & Safety, Leadership and Management, and Sustainability training. Based at Bircham Newton, Norfolk, trainees benefit from all-weather training, including industry renowned plant simulator technology to help train the next generation of plant operators. Stand AA1
There's more! More new innovations at Plantworx…
Railworx
The major civil engineering contractors, front line suppliers to Network Rail and HS2 are looking to connect with their existing and potential supply chains – Railworx is the perfect platform.
Alongside key exhibitors, Network Rail will have a dedicated 'InnovationWorx' area showing the latest developments by the Signalling Innovation Group and in the fields of electrification and telecommunications.
Visitors to Railworx will also see live demonstrations of machinery and plant used for railway civil engineering, including piling, reinforcing, drainage, access, lifting, surveying and monitoring.
A trip down memory lane
A new initiative for the 2019 will be taking place in the outdoor event arena, visitors can take a step back in time, revisiting the kit that inspired modern day machines with Plantworx very first 'working' Classic Plant display.
Each of the Classic machines will be a working exhibit, so visitors can get up close and personal and get a feel of what it was like back in those pioneering days long before the invention of hydraulics!
Drone Zone
With Drones playing an ever-increasing role in construction Plantworx 2019 will have a drone zone for the first time and has partnered with COMIT (Construction Opportunities for Mobile IT). This unique event will bring to life drones of all shapes and sizes in the dedicated indoor demo, which is named the 'fly zone'.
The fly zone is located in an indoor purpose-built structure, comprising over 2,300 square meters of stand and flying space. The area will also benefit from an indoor public address system that can be utilised to engage with the watching public.
The "demonstration fly zone" will contain construction equipment to add a touch of authenticity to the event. Safety will be a priority and all organisations using the zone will be required to meet the organisers strict Health and Safety requirements.
Plantworx and Plantforce Rentals state-of-the-art simulation zone.
The Zone will promote virtual interactive training, in a fun and informal environment – which will highlight the very latest technology in construction – and how it is changing the way we work. The zone will comprise six state-of the-art simulators which will replicate a 'real working construction site' – but in a virtual world. A mission 360 room is also planned. More details on the Simulation zone can be found here https://www.plantworx.co.uk/event/2019/page/simulation-zone
Other features within the indoor arena include the 'Get SET' – which will focus on Skills, Education, Employment and training. Confirmed exhibitors include Myerscough College, Role Recruitment, RailwayPeople.com and the National Fluid Power Centre.
Primary Engineer and the Student Day
It's full steam ahead for the Primary and Secondary Engineer event at Plantworx which is taking place on the final day of the show (13th June). The event will form part of the Student Day, which Plantworx successfully piloted at the 2015 event.
The Peterborough schools that are taking part in the Primary Engineer STEM (Science, Technology, Engineering and Maths) challenge are busy preparing their vehicles and fluid power projects in readiness for the 'Celebration Event', where teams from each of the participating schools will go head to head to find the best in class.
Judges will include engineers from headline sponsors Perkins and from other sponsor companies including Nylacast, Mecalac, GKD Technologies, Datatag, BSP Foundations, Gomaco, TriMark and ZappShelter, who have made staging this event at Plantworx possible.
Pupils, students and graduates, who are not taking part in the Primary Engineer event will also be invited to attend the show which will help young people better understand the UK construction and rail industries, plant equipment and all that they can offer and learn how the equipment on display helps to build railways and infrastructure around the country.
Hugh Edeleanu's Managing Director of H.E. Services Plant Hire, who is also exhibiting at the show, and has confirmed that he will be bringing the 'Diggerland' theme park (a transportable version) to the event. Children can get up close and personal and can ride, drive and operate real diggers, dumpers and other full- size construction machinery, in a safe and fun environment.
Put the 11th, 12th, 13th June 2019 in your diary – the Plantworx team look forward to welcoming you all to East of England Arena and Events Centre, Peterborough for Plantworx and Railworx.
Register now for your free Fast Track Entry tickets to the show at www.plantworx.co.uk/event/2019/tickets

Source: Plantworx Press