A 6,300 ft2 warehouse at Gothenburg's Banana Pier has been demolished using Volvo Construction Equipment machines, making room for two exciting world-class events.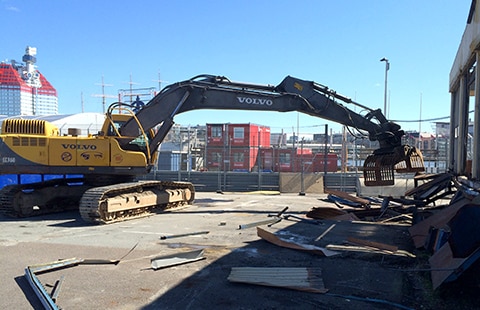 Sweden's Frihamnspiren (Freeport) opened in 1922 and was for a long time the heart of Gothenburg's harbor. It consisted of three main piers – Banana Pier, North Frihamnspiren and Kvillepiren – spanning across 20 acres. Now, nearly 100 years later, a total transformation of the entire Frihamnspiren area is taking place to make room for the Volvo Ocean Race 2015 finale.
One of the buildings to be removed was a 6,300 ft2 warehouse at the Banana Pier (east pier). Banana Pier was in service until the end of the 1990s, receiving Sweden's banana imports. This dock had specific buildings just to house the nine banana boats. The banana boats still come to Gothenburg, but they now dock further out at modern container docks. Today, the storehouse used for ripening the bananas still stands on the pier.
Volvo Construction Equipment (Volvo CE) excavators had the task of demolishing the large warehouse and dealing with harmful substances that were highlighted in the initial survey on site. In total, approximately 20 employees worked at the site and the project took three months to complete.
Plain sailing
The work, directed by the Municipal River Bank Development, went to contractor Corvara Miljörivarna last spring. There was a tight deadline, with the warehouse to be demolished originally for the Swedish Touring Car Championship (STCC) – Gothenburg's city race – in June this year, in order to improve the audience's visibility of the track. The area will now be used to welcome the Volvo Ocean Race teams as they reach the end of their journey in June 2015.
"We had about a week to pull the factory building down – but finished with some time to spare," says Johan Nonnen, supervisor at Corvara Miljörivarna. "We met with a lot of obstacles but we are a certified demolition company and can confidently get the job done. We also use the best equipment, including three Volvo excavators – an EC360LC, EC250D and EC160CLC, and a Volvo L60G wheel loader equipped with hammers, crushers and grapples. The warehouse demolition produced about 200 tonnes of waste material. We are always careful with demolition, but this was an extremely large warehouse in the middle of town – and on the water – so the demolition was performed with extra caution."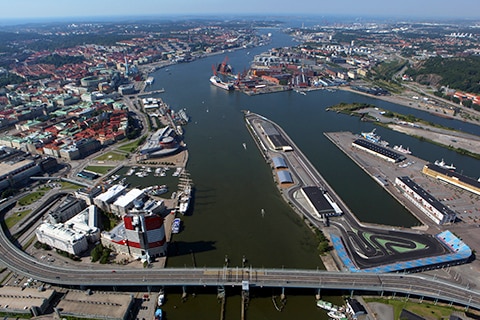 Special mission
"The Volvo Ocean Race is a world class event and Gothenburg is consolidating its position as one of Northern Europe's leading events cities," says Anneli Hulthén, Mayor of Gothenburg.
In addition to these recent changes, a completely new development called River City is under construction to celebrate the city's 400th anniversary in 2021. A city park and promenade named Älvstaden will accommodate 1,000 new homes and jobs. The new Hisings Bridge will replace the old Göta Älvbron – a bascule bridge in central Gothenburg, carrying road vehicles and trams.
Volvo construction equipment is working hard all over the city and they are being used to ensure that new developments to the harbor are completed to the highest standards in time for next year's Volvo Ocean Race finale.