Terex Finlay will be exhibiting at the inaugural bauma Africa trade show with Bell Equipment, their new distributor in Southern Africa. Four Terex® Finlay models will be exhibited at the show, including the NEW 1-100 impact crusher that was officially  launched at Bauma 2013.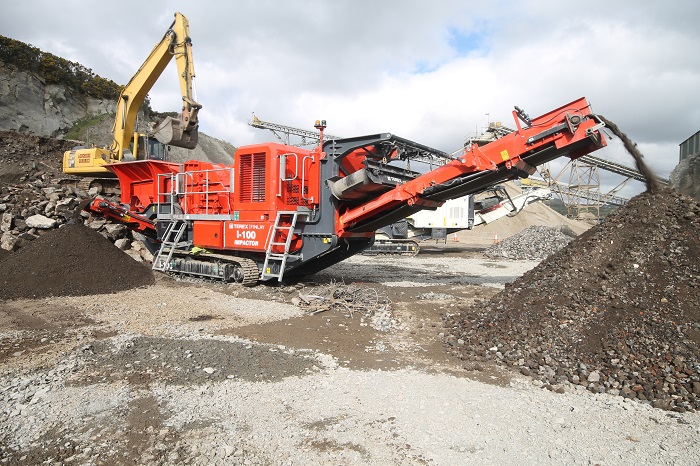 "We look forward to attending the first bauma Africa show.  It will allow us to reconnect with existing customers, and to meet new customers, together with our distributor Bell Equipment. The timing of the show is perfect, as we build upon the excellent start  made by Bell Equipment in Southern Africa. It also gives us the opportunity to launch the NEW I-100 impact crusher to the Southern African marketplace following its unveiling at bauma in Munich. We've had fantastic acceptance from the marketplace to this machine in Europe, the Americas, and Australasia, and we expect it will enjoy similar success here in South Africa. Our machine line up will be completed by the J-1480 jaw crushers, 694+ inclined screen and the 883 heavy duty screener, all of which are well established and have earned an enviable reputation in the local marketplace," commented Nigel Irvine, Sales and Marketing Director, Terex Finlay.
bauma Africa – Machine line up:
Terex Finlay I-100 Impactor
The NEW I-100 direct drive ø860mm x 860mm horizontal impact crusher gives unprecedented levels of production in both recycling and quarrying applications. The robust and proven Terex chamber gives excellent reduction ratios and high consistency of product shape. The advanced electronic control system  monitors and regulates the heavy duty vibrating feeder (VGF) with integrated pre-screen maintaining a consistent feed of material into the impact chamber for optimal crushing conditions .
Terex Finlay J-1480 jaw crusher
The robust and aggressive Finlay J-1480 jaw crusher incorporates the proven Terex® JW55 single toggle jaw crusher which boasts a throughput capacity up to 750mtph depending on application and material.
The J-1480 is available with hydrostatic drive which offers reversible operation for clearing blockages and demolition applications or direct drive to offer improved fuel efficiency and greater power utilization.
Terex Finlay 694+ inclined heavy duty screen
The Terex® Finlay 694+ is the industry's leading tracked mobile inclined screen and boasts 'best in class' production levels, set up time and ease of operation. The machine is powered by a Caterpillar powerunit in Tier 3 & Tier 4 markets. The latest development to the machine is the OPTI-DRIVE dual power system that allows the operator to select from powering the machine with the onboard diesel engine or to plug into a generator or mains electric to power the machine.
Terex Finlay 883 heavy duty screen
The 883 heavy duty screen is a robust high capacity machine engineered and built for working in quarrying, mining, construction and demolition debris, topsoil, recycling, sand, gravel, coal and aggregate applications. This aggressive forward facing inclined modular configuration screenbox has a 4.8m x 1.5m (16' x 5') top deck and a 3.6m x 1.5m (12' x 5') bottom deck.

Contact: Brian Pauley (Marketing Manager)
Tel: 0044 (0) 2882 418 768
Mob: 0044 (0) 7766 417602
Email: [email protected]