Parallel to the International Hardware Fair Cologne
Combined ticket provides access to both trade fairs
Over 10,000 trade visitors expected from more than 100 countries
Around 450 exhibitors display machinery for every sector of industry
Strong market conditions for second-hand technology

USETEC hits the nail on the head. In 2012, the world's largest trade fair for used machinery and equipment will take place in Cologne from Monday 5 to Wednesday 7 March – and for the first time parallel to the International Hardware Fair which begins one day earlier. Some 450 exhibitors will be displaying used technology for every sector of industry and commerce. The two organisers – Hess GmbH, Weingarten/Baden, and Koelnmesse – are expecting 10,000 buyers from more than 100 countries to attend the event (2011: 9,250). USETEC's partner associations are similarly optimistic. "Every aspect of last year's premiere of USETEC in Cologne was a success," emphasises Kurt Radermacher. "Visitors and exhibitors last year were delighted with the venue in Cologne at the heart of Europe," says the Managing Director of the Trade Association for Machine Tools + Tooling (FDM) in Bonn. "Our members are therefore looking forward to USETEC with considerable anticipation – not le ast because of the timing of the event to coincide with the International Hardware Fair." The FDM, which is also the event's technical sponsor, highlights the strong area of overlap between visitor target groups for the dynamic trade fair duo. "A combined ticket should promote the exchange between the two fairs," says Radermacher. As Katharina C. Hamma, Managing Director of Koelnmesse GmbH, points out, "By running the events in parallel, we are able to tap new synergies for visitors and exhibitors. The sector now profits twice from a single trip to the trade fair in Cologne."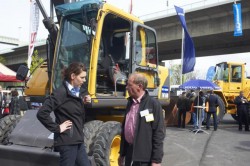 In any case, the global conditions for the used machinery market are "currently advantageous". This is the view of Jens Nagel, Managing Director of the Federation of the German Export Trade (BDEx) in Berlin. BDEx expects demand for used machinery to grow strongly again this year. "While German exports as a whole are forecast to rise by up to seven percent during 2012, we expect used machiner y exports to grow by over ten percent," predicts Nagel. He highlights the issue that new equipment is often not available or simply too expensive in the wake of the financial crisis. Second hand machines are seen as a good alternative. "This applies both to the emerging markets of Asia, South America and Africa and to EU countries as well as their neighbours in the Mediterranean and Eastern Europe." USETEC partner BDEx has noticed that the demands of foreign buyers have continued to rise. "One consequence of the growing transparency in the market is that customers also have very specific ideas regarding the equipment manufacturer, technical specifications, year of construction and capacity they want," says Jens Nagel. "It is also becoming ever more essential for sellers to be able to offer customers financing options for their machines," he adds. Nearly one hundred BDEx member companies are active in the used machinery business. "The sector is therefore one of the most importan t elements of our association's activities."
Demand is currently enormousGerman companies are not alone in supplying the market with used products. One third of USETEC exhibitors are drawn from a total of nearly 30 foreign countries. The most strongly represented exhibitor nations are Italy, the Netherlands, Switzerland, the United Kingdom and France. There will be joint delegations from the FDM, AIMUU (Italy), DUMA (Netherlands) and LandBauTechnik associations – as well as from the European Association of Machine Tools Merchants (EAMTM), which joined the USETEC crew as a partner in December 2011. International exhibitors will be entering the halls of Cologne's exhibition centre with a sense of optimism. "Our company operates in the metal working sector," explains Marco Moritsch, Managing Director of Marcels Maschinen AG, which is based in the Swiss town of Höri. "And the demand for used machines is growing constantly here," he adds delightedly. "We have a confident outlook for 2012 and are receiving enquiries from all over the world, mainly from Europe and Asia."
Hamo Gregorian is another to be profiting from the strong demand in the used machinery markets. "At the moment we are unable to satisfy all our customers' wishes," explains the Chairman of the Board of WMW AG, a USETEC exhibitor based in Leipzig. "This is because we thoroughly test the used machines we sell and partially overhaul them." These processes take time and the company's technical specialists are working at full capacity. By participating at USETEC, WMW primarily hopes to make new contacts. "We want to shake lots of hands and will be pleased if we make sales later as a result of discussions at our stand," says Gregorian outlining his aims for the event. The Leipzig-based company certainly benefits from its large warehouse area totalling some 25,000 m². On the one hand they can offer a comprehensive range of used machines including all the necessary components from A to Z. On the other hand, WMW also assembles complete production lines. "We recently equipped a complete factory in Lithuania for manufacturing charcoal," explains Gregorian.
Manufacturers make their presence feltAs well as the large number of machinery dealers, many well-known machinery and equipment manufacturers also make their presence felt at USETEC. These include DMG, a company that markets used machinery manufactured by the Gildemeister group. Chiron, SHW, Siemens and Carl Zeiss also return in 2012 with their familiar joint stand. "Our machines are fully reconditioned and upgraded to meet the latest technological standards. We also offer customers full service and maintenance contracts," says Michael Lücke, Events and Trade Fairs Manager at Carl Zeiss Industrielle Messtechnik from Oberkochen. "In just the same way as you would expect for a new machine," he adds highlighting the comparison. According to this high-tech company based in the Swabia region of Germany, the used machinery business is currently flourishing and enjoying double digit growth rates. "The demand is greater than the supply," confirms Lücke. Customers are looking for newer products, which are less than five years old and modern technologies such as scanning. Right now, interest is particularly strong from Russia, Turkey and Southern European countries – of which Zeiss mentions specifically Spain.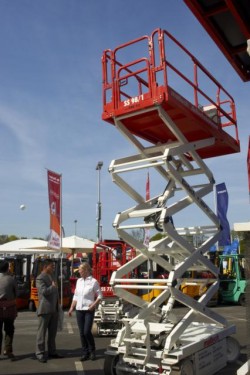 Other manufacturers at USETEC 2012 include Joseph Vögele AG from Ludwigshafen, the global market leader in road pavers. "Our expectations are very high, especially due to the parallel scheduling of USETEC and the International Hardware Fair Cologne," says Thomas Nessel, Head of Used Machinery Sales at Vögele. "We are confident that this will increase the stream of visitors still further." Vögele's used machinery business is booming right now. For the curre nt year, the company hopes that the slight economic weakness in Germany will not have too much of a negative impact on its results. Infrastructure projects in other countries are expected to have a positive effect on sales of used construction machinery. "In Romania, the government has decided to invest more money in road building," argues Nessel. "In North Africa, too, the demand for construction machinery has risen noticeably compared to recent years."
Manufacturers sell on used machines they have accepted back in part exchange deals for new machinery and would otherwise be capital lying idle. This is the strategy being pursued by USETEC exhibitor IP Gansow from Unna, which is a subsidiary of the Italian cleaning machine group IPC. "We export the used machines to other countries," explains Heinz Waschke, the company's export manager. "Reconditioning and offering all machines with warranty in Germany would be to the detriment of our new machinery business." Target ma rkets for second-hand machines are Eastern Europe, the region around the Black Sea and Asian nations such as India. IP Gansow is participating at the international used machinery trade fair for the sixth time, when exhibiting at USETEC's predecessor Resale is also taken into account – and previous events have landed a number of new customers for the company. Heinz Waschke believes that scheduling USETEC to run at the same time as the International Hardware Fair in 2012 will increase the number of casual visitors. "We are preparing for greater numbers of visitors with additional brochures and hoping for more deals after the event."
A boom for servicesThe services sector is an indispensible part of the used machinery market. Plastic-Maschinen Handelsgesellschaft (PMH) from Hennef is one of the many USETEC exhibitors offering a comprehensive range of services. "We recondition and modernise used machines after detailed discussions with our customers," explains the company's owner Jürgen Kinnart. "And we also offer start-up and after sales service." PMH also engages in retrofitting machines. "Installing the latest drive technology, for example, enables users to run their production processes while consuming much less energy," says Kinnart. "That is a profitable investment for years to come." The machinery dealer is a specialist in extrusion products and expects great things of USETEC 2012. The success of last year's trade fair and the deals completed after the event have contributed to Kinnart's optimistic outlook. He particularly mentions a number of African trade fair contacts he met in Cologne. However, his main customer base lies in Eastern Europe and Saudi Arabia. "While interest from Eastern European countries has traditionally been strong, demand from Saudi Arabia has grown noticeably in recent years," says the supplier of plastics processing machinery. Among other things, Arabian buyers use the equipment they buy to make pr oducts for use in the country's thriving construction sector.
As well as selling used machinery, USETEC exhibitor Pressen Haas from Gammertingen also offers a wide range of services: consulting, dismantling and reassembly, loading, procurement of spare parts, reconditioning, transportation and refitting equipment to comply with accident prevention regulations. "This makes the purchase of used presses and machines a profitable, safe and secure transaction for the customer," emphasises Mario Kosjerina, Managing Director. Pressen Haas is primarily a supplier to the automobile industry. As the economy has been flourishing recently, the company has been selling not only to emerging markets such as Brazil, India or Turkey – but also to countries in the EU. "One reason for this is that used products are available faster during peak periods," says Mario Kosjerina, whose experiences are similar to those of other market participants. He is "very hopeful" for the used machinery bu siness in the near future but maintains a realistic view of the situation. "The discussions about the currency and sovereign debt crises are certainly not a positive factor for growth – they dampen the spirits of decision makers." During recent journeys, even to distant regions such as India and South America, he admits to noticing a slight slowdown in the pace of business. The continuing strength of the Euro also makes sales more difficult. "Companies do not want to invest at any price just now," observes Kosjerina. "We hope that the upcoming USETEC will prove us wrong."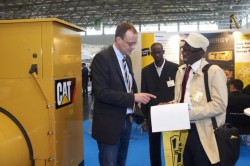 Enquiries from around the worldThe organisers of USETEC receive a wide variety of enquiries for used machinery in the run up to the trade fair. "Potential buyers come from Germany and neighbouring European countries," analyses trade fair organiser Florian Hess. "But also from Eastern and South-Eastern Europe – and from far-off, emerging markets such as India or Argentina." The Managing Director of Hess GmbH describes these enquiries as representing "a mix of all sectors and countries with a hint of the exotic". They range from an Egyptian company searching for salt-resistant irrigation pipes to a large machine for manufacturing spaghetti in Northern Iraq. These companies often have a clear view of their requirements. For example, the Indian company Abishek Transteel requires mobile cranes capable of lifting up to 50 tonnes. And the Serbian company Galaplast from Cortanovci is looking for an injection moulding machine for injection weights of over 600 grams. The equipment can be new or used – although the buyer has defined a maximum price. "We do not want to spend more than € 30,000," says Dusan Djurdjevic from Galaplast setting his upper limit.
A food processor from Koronadal in the Philippines also has grand plans. "We need to equip a complete bakery plant," says Rey Chiang from Array Foods Inc. "We aim to have a capacity of up to 20,000 loaves per day." While many companies travel individually to USETEC 2012 to find machines, others travel in groups. Several larger delegations have registered to attend the trade fair, including groups from Afghanistan, Bangladesh, Belarus, Morocco, Nigeria and Russia. Another group composed primarily of entrepreneurs from East Africa is being brought by the German-African Business Association.
USETEC 2012 will begin one day after the opening of the International Hardware Fair at the same trade fair site in Cologne. It will take place from Monday 5 to Wednesday 7 March. USETEC features used machinery and equipment for every sector and branch of industry and commerce. Further information is available at www.usetec.com.

Source: USETEC News Room